What's on this page:
On related pages:
---

The photo of John Spock's grocery truck at top left comes from Mary Ann Spock.


BUSINESSES THAT CAME TO THE CUSTOMER

Most of these are food businesses, but there are also a few in this list that were not.

In addition to their general customers, some of these businesses also catered to elderly and/or infirm people who couldn't walk to the stores; some had moved into town from nearby villages, no garden, no canning anymore ... This list has been expanded with entries from the 1940 Federal Census by Ed Merrick (thanks, Ed!). Some of the people named owned the businesses, others worked for business owners, but all would have been familiar faces in their time as they brought food to the patch towns and to those who couldn't easily go to the stores on their own.

[Thanks to Ed Merrick, Ann Spock, Charlie Rudewick, Jack Opilla, Leslie Trau, Pat Ferko Miller, Marianne Marencin, Ed Kushma, Barbara Opilla Gadola, Tom Detweiler, Patricia Bzdil Paul for additions and corrections.]

Francis Boyle - 554 South Street, truck driver, milk route. (age 38 in 1940 Census)

Joseph Butchko - 457 South Street, truck driver, dairy. (age 21 in 1940 Census)

George Cheppa - grocery

Colangelo - grocery truck (From Hazleton)

Feeney Donato (rag collector) (From Charlie Rudewick: I used to wait for the Rag Man to come and connect our burlap bags to his scale and then let me know if I had enough money for a nickel popcorn and 15 cent admission to matinee at the "Ref" (Refowich), the "Rathole" (Rialto) or the "Greeks" (Saint Mary's).)



Cal Drasher

- egg delivery (From Patricia Bzdil Paul: "BTW, we had an "egg-man" that delivered eggs each week - Cal Drasher was his name, I believe.")

Joseph Evans - 558 South Street, driver, milk route (age 27 in 1940 Census)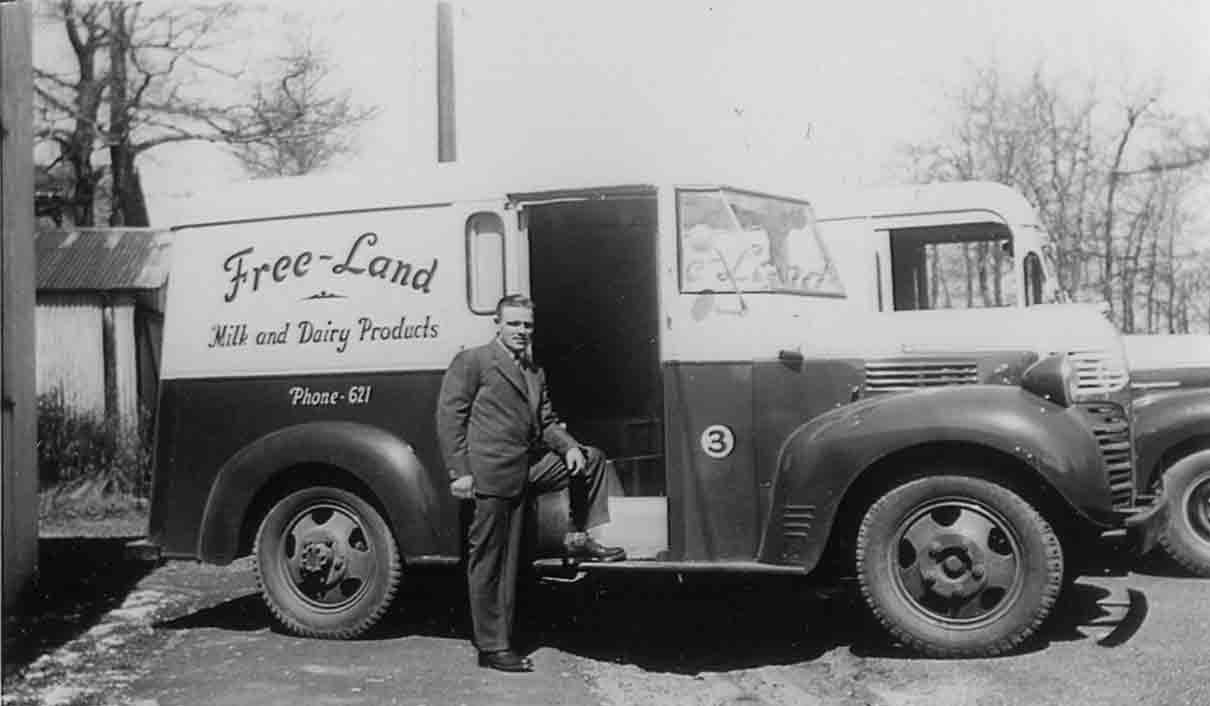 Freeland Dairy -

Brengle Street (Lou Corazza, proprietor)

Edward Gallagher - trucker, green truck (age 29 in 1940 Census)

Clarence Hoffman - 619 South Street, truck driver, dairy (age 37 in 1940 Census)

Joseph Johnson - 512 Walnut Street, iceman, employer (age 45 in 1940 Census)

Stephen B. Kobelka - milk truck, salesman, dairy products. (age 28 in 1940 Census) See also the Gabuzda Brothers page, in the section on the Glen Almus Dairy.

Jackie Kochie - North Side

Adam Latz - grocery truck

Sheldon C. Learn - 607 Walnut Street, trucker, baker (age 42 in 1940 Census)

Joe Macko - bakery truck (Stroehman's???)

Mattavi Bros. beer distributors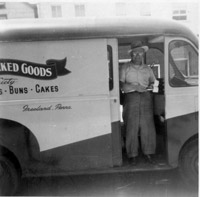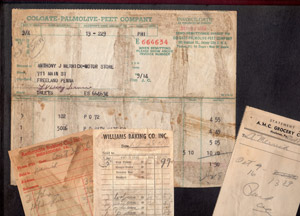 Joseph "Germy" Mattis - 407 Park Street, Woodside, Freeland, salesman agent, bakery (age 30 in 1940 Census) (photo from Ed Merrick)

Tony Merrick - store on wheels (From Ed Merrick: We would alternate days between Highland and Jeddo. I can still smell the odor of the coal-oil stove my Dad had on the truck in an attempt to warm its interior on cold days ....) (photo of invoices for the store on wheels from Ed Merrick) See also the Tony Merrick page.





Steve Mesko -

(this name comes from George Opilla and Ed Kushma) Mesko's - South & Hemlock Sts. (Steve and Mary Mesko, proprietors) (From Ed Kushma: There was a small food store - Mesko's … I worked there for a couple of years when I was in school during the late 50's. The store was run by Mrs. Mesko while Mr. Mesko drove a mobile grocery bus in the area.)

Charles H. Moerschbacher - (From Leslie Trau: My great-great grandfather (Charles H Moerschbacher) is listed in the Freeland Business Directory 1884-1886. My dad tells me that Charles H. Moerschbacher had his own business and he used to sell pies and beer. His son Charles E would drive around town in his little horse drawn carriage and deliver the goods for his father.)



Billy Nitka's Pastry Truck

- back in business – 3 months prior: "Billy Nitka, veteran Freeland grocery store operator who in recent years has operated a baked goods store-on-wheels, is recuperating at his home, 1166 Walnut street, after having been discharged on Saturday from the St. Joseph Hospital, Hazleton" (from Ed Merrick, 1956 ad and article)

Ofstroff - grocery truck

Opilla - 984 South St., later moving to 348 Park St. (From Jack Opilla: My Mother Elizabeth and Father Michael (aka Bucky) operated Opilla's Fine Foods from 984 South Street and moved to 348 Park Street in 1953 ( technically Foster Township). There was a small grocery store and a bus my Father converted to a store on wheels. His route was Eckley and the Jeddo's. The bus was the first to have both a refrigerator and freezer. When he retired, he sold the bus but kept the store. He continued to make small deliveries by car to mostly his old customers in Jeddo.) (From Barbara Opilla Gadola: My uncle, Michael (Buck) Opilla, had his first grocery store that I can remember on South St between Vine and Fern St just below the St. John's Nepomucene RC Church. He then built a new home on Park St. and his grocery store was in the lower level of that house. He also had a store on wheels which was a converted passenger bus. He served many "patch" towns on his route and also made grocery deliveries in his station wagon to the elderly and shut-ins.) (From Pat Miller: Opilla....Small store on wheels. A converted bus...a big orange bus.)



Pernitza Grocery

- Main St. - Thomas Pernitza, formerly of Drifton, bought a building on Main St. for his grocery business and has purchased a Buick delivery truck from Buick agent John Gallagher (1923 newspaper notice)

[Popcorn man] (also sold candy apples)



Price's Dairy -

(From George Opilla: The Hazleton Dairy Truck/wagon that was pulled by horses was owned by Price's Dairy in Hazleton. They ysed the horses mainly in Hazleton.)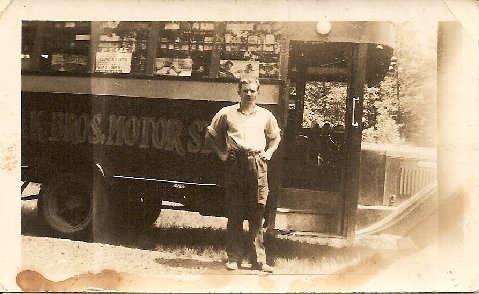 Remak - store on wheels - 709 Main St. (John Remak, proprietor) (From Ed Merrick: "John Remak (my uncle), was the proprietor. My grandfather, Mike Remak, started this business. Early on, he also distributed beer from a horse-drawn wagon. My grandfather also had two stores-on-wheels, which were driven by my dad, Tony Merrick, and my uncles, Mickey and George … My Dad worked for his father-in-law, Michael Remak, on this truck until he went to work for Emro Silvasi). See also the Mike Remak page, as well as the Gabuzda Brothers page that includes information on Emri Silvasi and a photo of him. Photo of Remak's Truck from Nancy Penn.

Anthony Sacco - 624 Ridge Street, truck driver, ice (age 21 in 1940 Census)

Sharp - bakery truck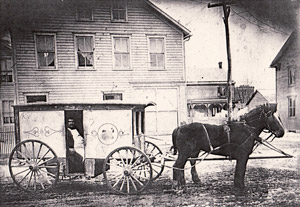 Stanley C. "Butch" Sosnowski - 355 Washington St. (From Ed Merrick: He also delivered with a horse-drawn wagon.) In Charlie Stumpf's book on Freeland's history, this photo is on page 9 with the caption: "Butcher Stanley C. Sosnoski had a store located at 355 Washington Street and delivered his products from door-to-door. In 1900 steak sold for twenty-four cents a pound. Shown here is Sosnoski's delivery wagon." This copy of the photo courtesy of the Greater Hazleton Historical Society. See also the Tony Merrick page for more about Jacob and Stanley Sosnowski and their butcher business.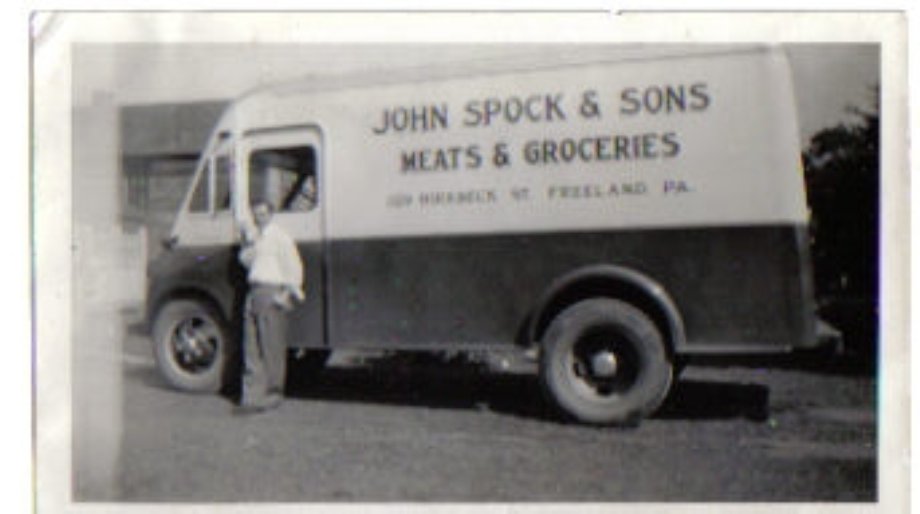 John Spock - store on wheels - 1129 Birkbeck St. (From Ann Spock) (From Tom Detweiler: Especially loved his freshly baked goods. I can still smell the various aromas that assailed one as you stepped into his truck.. I believe that he (and his family) did bake the goods since the breads and rolls were still warm. He sold many of the goods that he had in his store from his truck. It was a great help for my grandparents and probably others in Freeland to have him and his rolling store in action. I believe his whole family was involved with the store. He was a fairly large man, extremely jovial.) (From George Opilla: his first name was John; he was my uncle.) Photo of Spock's Truck from Ann Marie Spock,

Mr. Softie - soft ice cream

John Stofka - 716 South Street, salesman, retail ice (age 30 in 1940 Census)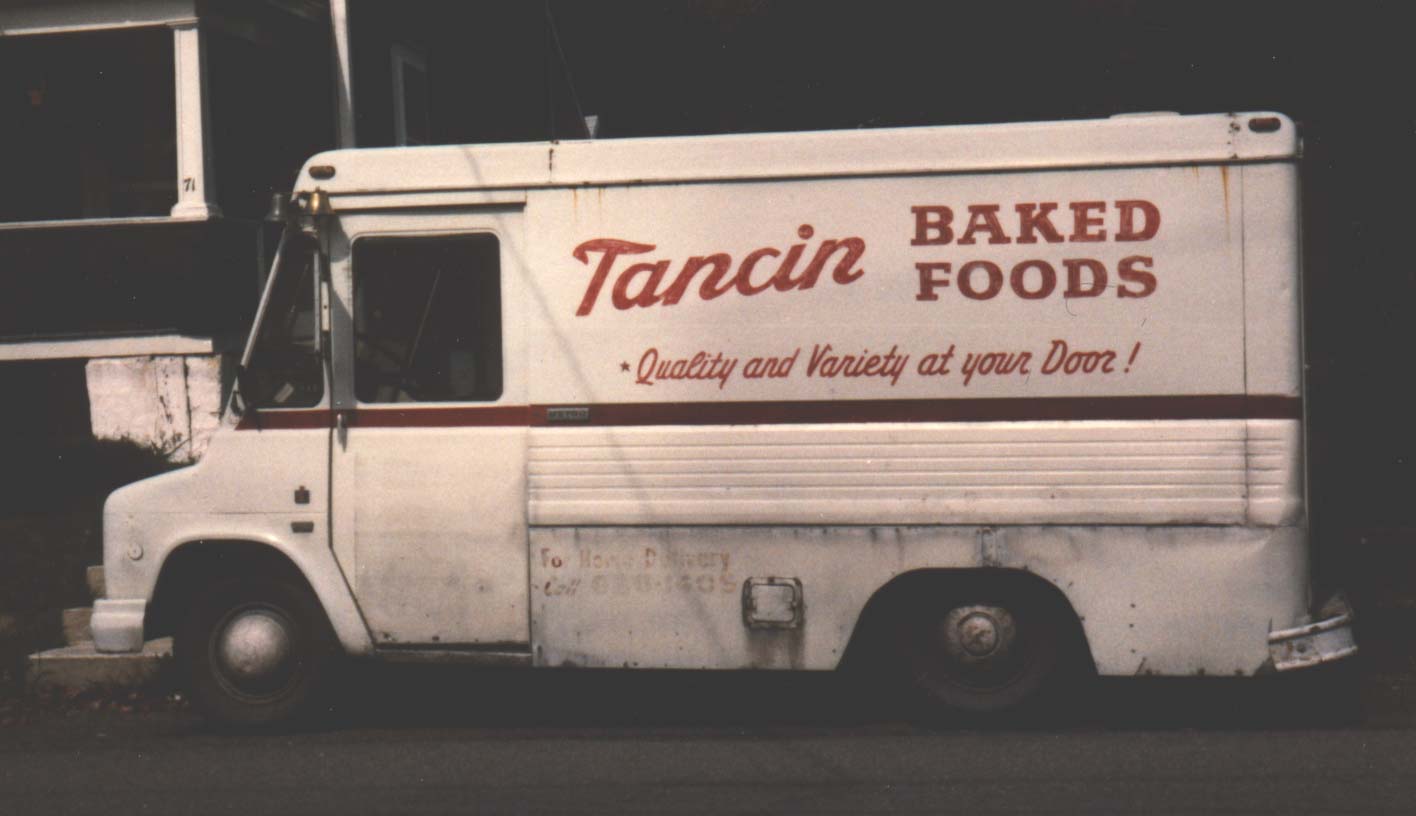 Tancin - bakery truck, photo at left - (Lefty Tancin, Upper Lehigh)

Aloysius Urenovich - 76 Main Street, Highland, distributor, bakery (age 25 in 1940 Census)

Andrew Uricheck - 602 Ridge Street, milk delivery, dairy (age 25 in 1940 Census)

Gordon Weaver - 349 Ridge Street, driver, supply company (age 46 in 1940 Census)

Edward Yori - 622 Ridge Street, delivery man, ice (age 33 in 1940 Census)

Peter J. Yori - 704 Walnut Street, trucker, soda company (age 47 in 1940 Census)