---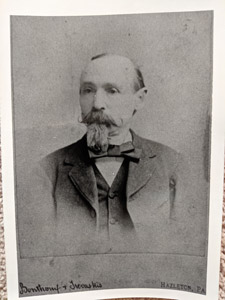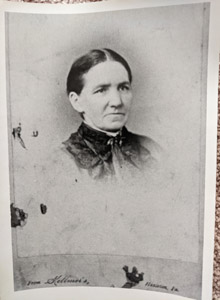 A new page

has been made in the People section about August and Margaretta Donop and their family, and the founding of Freehold / Freeland. It's based on information and photos from Susan Bulla, great, great-granddaughter of the Donops.




---
Meanwhile, what's new on this page:
Freeland 1938 airmail cover sent to President Roosevelt by Postmaster Neale Boyle
Ray Morgan, gas station owner and gunsmith
Foster Township grade school group photo, circa 1913-1920
Bill Morgan retires from the Hazleton newspapers after 58 years
Recent obituary for former Freelander Hugh Hughes
Other recent site updates are listed on the WHAT'S NEW / News & announcements page (link at left).


---

Freeland 1938 airmail cover sent to President Roosevelt by Postmaster Neale Boyle

In April 2021 I received this email message from Mark Postins in England:
Good evening and greeting from England. I don't know if the attached pictures are of any interest for your web page. As you can see from the first picture it's a airmail cover and was sent by the post master Neale Boyle to the president, but I think the back is as interesting as it has a cachet stating that it was once owned by Roosevelt.
Not a bad buy for $3 yesterday from a car boot sale in rural Leicestershire. U.K.
All the best, Mark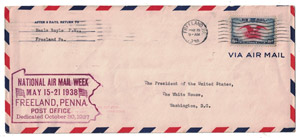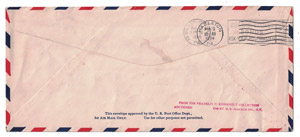 Attached were these two images. Thank you, Mark! As you see, this airmail envelope was stamped and sent during National Air Mail Week in 1938 to "The President of the United States". The ink stamp at bottom left includes the dedication date of our post office on October 30, 1937, the previous fall. I know that there was a lot of pride in our new post office back then. View photos of its being built on the Post Office page.

On the back of the envelope we see that it was also canceled at the Hazleton and Wilkes Barre post offices before being loaded onto a plane and making its way to President Roosevelt. Those cancels include an exhortation to buy U.S. Savings Bonds at the post office. The back of the envelope also shows that it was ink-stamped again later, when it was being auctioned: "From the Franklin D. Roosevelt Collection, auctioned 1946 by H. R. Harmer Inc., N.Y."

I'm grateful to Mark for sharing this piece of Freeland history with us.


---

Ray Morgan, gas station owner and gunsmith

Some years ago I received email from two brothers: Tom Morgan (now deceased), and later from Bill Morgan, both writing about their uncle Ray Morgan. Both sent me this photo, and both gave permission to post it. In March 2021 Bill contacted me again.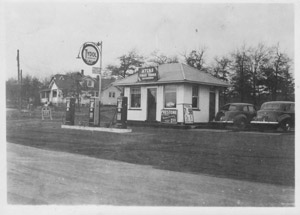 Morgan's Gas Station - west South St. (Ray Morgan, proprietor)

Tom wrote:

Dear Ms. Tancin: I recently learned about your Freeland history web site. Do you have any information on my uncle Raymond Morgan. He was a gunsmith and also owned the little Flying A garage on South Street. It is now the Wooden Nickel Diner I believe. I don't know if you remember the little gas station on the edge of town. He was born sometime around 1900. He made target 22 rifles used in shooting completions. …



He later wrote:

I found the old photo of my uncle's gas station. I know very little about my uncle. My son became interested when I told him about Ray's rifle being used to win an Olympic gold medal. …





I never knew my uncle having only met him once as a very small child. His father was a mine foreman the family lived in Pond Creek. Later my grandfather got a civil or political job and the family moved to Washington Street. The house was directly behind the old MMI gymnasium. My father was the youngest of 8 children and Ray was the oldest. They were many years apart. I think Ray would have been born approximately 120 year ago.

(1890s - CT)

Tom then asked for information on the Jeddo and Drifton machine shops. He wrote:

I am doing some research on my family history. I think my uncle learned his machining trade at the Drifton shops. He later went on to become a gunsmith. I remember an old wood fence between Citterio's plant and Callelo's that the old timers said was the old Drifton shops property. What I picked up listening to them was that the shop did heavy industrial manufacturing, building locomotives and mining equipment. I suspect there were foundries, forge and welding shops on the site. …



A few years later Bill wrote:

My uncle Ray owned the garage. The building is now part of the Freeland Diner at South and Birch streets. Within the past few years, the house in the background was still identifiable. Ray moved to New Haven, Connecticut, and was a machinist and gun smith. He made 22 caliber, prone position, competition target rifles. Apparently the guns are still well thought of, at least among those with that particular interest. …





My understanding is that Ray only made the action part of the guns, and that other craftsmen added the barrel and stock. Some of his guns (he actually only made the action, not the barrel of stock) have been turned into works of art with beautiful wood stocks. This is a

link to a forum about my uncle's guns

. Note there is a reference to a magazine article in one of the responses.




---

Foster Township grade school photo, ca. 1913-1920

A few years ago Bill Morgan wrote: On your website, I found my Uncle Edgar Morgan listed in the 1921-1922 Freeland city directory, under Newsdealers and Stationers. I had been told he ran a newsstand. Are any Morgan's listed in the 1928-1929 directory. [I sent Bill the list of Morgans from that directory.]

More recently, Bill Morgan wrote again:

My Dad, William Morgan, was a Freeland native, and later became managing editor of the Standard-Speaker in Hazleton.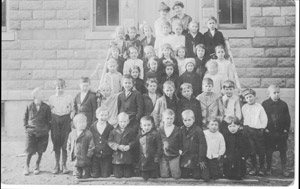 I think my Dad is somewhere in this picture, but I don't know which person. Could that be the old Foster Township building. Just FYI, I attended MMI, and I was a freshman in the year after the fire. The fire had burned the old section of the building, but not the newer section in back. Since there was a shortage of classrooms, a number of us had some classes in the Foster Township building. If I remember correctly, only MMI was using the building. I just remember thinking that my Dad had gone to school in the same building. … My Dad was born in 1908, so if he is in the picture and you want to estimate the ages of the kids, you can get an approximate date.


Photo credit: "From the archives of Bill Morgan, former managing editor the Standard -Speaker in Hazleton."


---

Bill Morgan retires from the Hazleton newspapers after 58 years

Photo credit for these next two images: "From the archives of Bill Morgan, former managing editor the Standard -Speaker in Hazleton."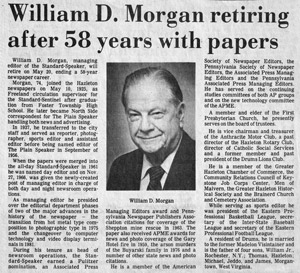 William Morgan worked in the Hazleton newspapers for 58 years, retiring in May 1983. His son Bill sent scans of two clippings that had been saved from that time. William Morgan started out after high school in 1925 as Freeland circulation supervisor for the Standard-Sentinel, later becoming North Side correspondent for The Plain Speaker. In 1937 he transferred to the city staff to work as a reporter, photographer, sports editor and assistant editor, eventually being named editor in 1956. Later the papers merged into the all-day Standard-Speaker in 1961 and he became day editor. Five years later he got the newly-created post of managing editor in charge of both day and night newsroom operations.

As managing editor he presided over the transition from hot metal type composition to photographic type in 1975, and over the switch to computer technology and video display terminals in 1981. While he was head of newsroom operations the Standard-Speaker earned a number of awards, described in the article with photo shown here.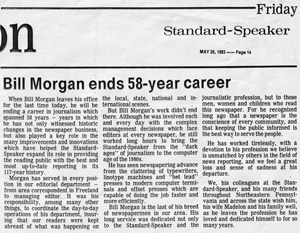 The other clipping from Bill, an op-ed from his dad's colleagues at the paper, comments that Bill Morgan "played a key role in the many improvements and innovations which have helped the Standard-Speaker expand its role in providing the reading public with the best and most up-to-date reporting in its 117-year history." His colleagues also called him "the last of his breed of newspapermen in our area … he recognized long ago that a newspaper is the conscience of every community, and that keeping the public informed is the best way to serve the people."

Ed Merrick has also offered a tribute to newsman Bill Morgan on the page about Printers, newspapers, news dealers, stationery stores.


---

Recent obituary for former Freelander Hugh Hughes

Also from son Bill Morgan on another topic:


I've attached an obituary of a Freeland native, from our

newspaper here in Arizona.

Pat Ferko Miller also sent me a copy of the obituary of Hugh Hughes. Thanks to both Bill and Pat, who thought that Freeland area residents should know about Hugh Hughes and his passing. – CT


---
About this website: Businesses section reorganized and expanded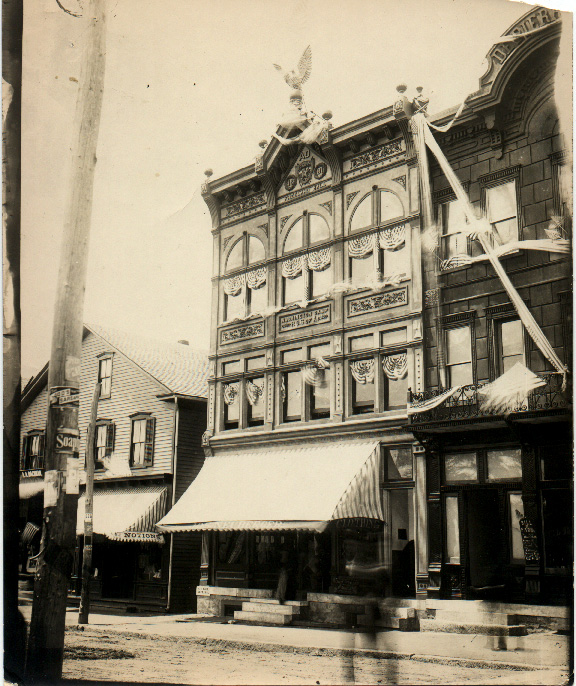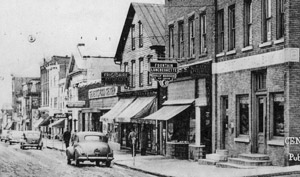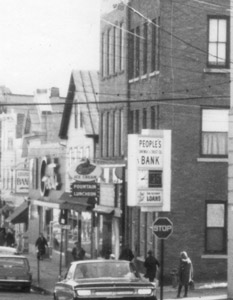 These three photos all show parts of the same block on Centre street, from the Front and Centre intersection, west side of the block and looking southwest. The photo at left shows, left to right: A. A. Bachman's, Joseph Neuberger's department store in Freeland Hall, De Pierro's restaurant, circa early 1890s, photo from John Zubach.

The center postcard shows the whole block, including (right to left): First National Bank, Fairchild's Luncheonette (sold to Elwood Whitehead in 1950 to become Woodie's), Feissner's Hardware, Genetti's, Citizen's Bank ... at far left you can see the intersection of Main and Centre and Dan Gallagher's lunchroom sign painted on the side of what was later Bertha's and is now Adam's antique store.

The right photo was taken by Ed Merrick in 1966 and again shows from right: First National Bank, Woodie's, Feissner's Hardware, Genetti's, Citizen's Bank ...

The number of businesses that have operated in Freeland is amazing. The Cottage Hotel might be the oldest remaining Freeland business, but please let me know of other contenders! In the new Businesses section you can find a huge array of many kinds of businesses. Additions and corrections are always welcome. Please visit and enjoy!



Businesses:



---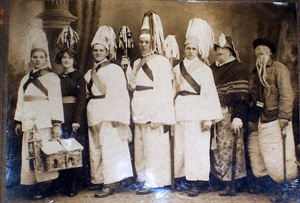 Past Featured Photos: Here are links to three pages containing previously posted photos and information from the Featured Photos section of the home page: earliest postings, more recent ones, and the most recent ones. They are credited to the sources. Some of these have also been integrated into other parts of the site, while others are still waiting for that. Meanwhile, these past Featured Photos are always available via these links.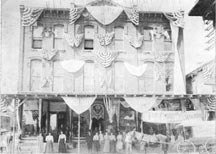 Note: Photo at top left of this page came from J. Zubach; identification from Gretchen Collins says that the business on the right in that photo was Merkt Confectionery, run by Charles and Lena Merkt. It was located in the Birkbeck Block on Centre and Main streets, and reputedly sold fabulous ice cream.