What's on this page:
Story of the Gabuzda brothers and their businesses (including a Sarna family photo added 4-2018)

Notes on several other grocery businesses owned by relatives of theirs - Hasara, Palya, Silvasi

---

Most of the information on this page comes from Gabuzda family members: the late John Gabuzda, the late Bernice Gabuzda Clapper, Marion Gabuzda Boyle Denion, Mary Cooper, Martha Gabuzda Cooper, Thomas G. Gabuzda, M.D., and also from extended family member Ed Merrick.

Early years in Freeland - Immigration and apprenticeships

This story of the Gabuzda Brothers' businesses in Freeland begins with their cousin George Palya and his wife, Anna (Tkac or Tkacs) Palya. George Palya was born in Slovakia (then part of the Austro-Hungarian empire) in 1872 and came to the U.S. around 1886, settling in Freeland. He married Anna Tkac (pronounced Kotch) in 1898. Anna was born in 1881 in Harleigh, probably the oldest daughter of Stephen and George Gabuzda's uncle Ladislav Tkacs and Anna (Sabol) Tkacs, so she would have been Stephen and George's first cousin, and she would have been the connection that led to the Gabuzda brothers first getting into the meat business.

George Palya opened a meat store at 452 Centre Street in the first decade of the 20th century. In that decade the young Gabuzda brothers also emigrated from Slovakia, going first to Mahanoy City and then moving to Freeland. They apprenticed themselves to their cousin, George Palya, an established Freeland "butcher" (now known as meat cutters). Stephen began working with him around 1908, and he lived in the Palya household for a few years. George began his apprenticeship with his cousin around 1910-11.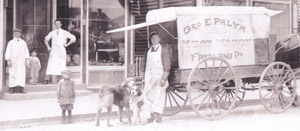 George E. Palya Meat Market and horse-drawn meat wagon, west side of 400 block of Centre St., near South St., Freeland, PA, circa 1908-1913. Owner George Palya stands on lower step at left. Brothers and Palya Market apprentice butchers George J. Gabuzda (right side of door, hands on hips) and Stephen Gabuzda (guarding the meat wagon from the very friendly dogs) started their own business partnership, selling meat and their own milk, only 2 or 3 years after this photo was taken. [See the Palya page for the larger photograph this was cropped from and additional notes.] Photo from John Gabuzda.


---
Opening their own business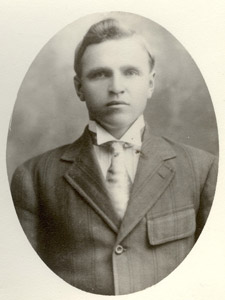 At left, this photo of Stephen Gabuzda was taken around 1915-1920. Photo from Martha Gabuzda Cooper, scrapbook.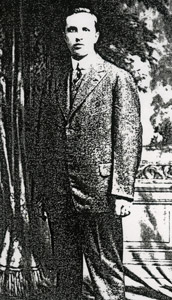 At right, undated but relatively early (judging from the props) photo of George Gabuzda. Photo from John Gabuzda.

Around 1913 the brothers formed a partnership and opened their own meat and grocery store, "Gabuzda Bros. Meats and Groceries," at the northeast corner of Centre and Chestnut streets (which would later be Reese's home and store, in the building shown at left in the next photo). In 1914 they contracted for the building of the brick store/house that still stands at 899 Centre St. across from the Our Lady of the Immaculate Conception rectory, and they moved in together in 1915, Stephen married, George still single, all living above the store. George married in 1917, and in 1919 after he returned from army duty in WWI, he and his wife hired Berger Construction to build a home for them at 941 Centre street, half a block away. Stephen and his wife remained in the original home attached to the store at 899 Centre.

Marion Gabuzda Boyle Denion remembers growing up in that home: "This was a big beautiful home with store front and small office. The large side porch(seen in photos) led into a living room, large formal dining room and very large eat in kitchen(after dinner we would add another leaf to the large oak table and play ping pong),an open stairway to 6 large bedrooms,all with walk in closets, one large bathroom, a sign of the time(we kids bonded waiting in line when home from school for lunch!) Steve and Mary (Sarna) Gabuzda had 7 children. A very busy household! ... I loved growing up in that beautiful home and beautiful town."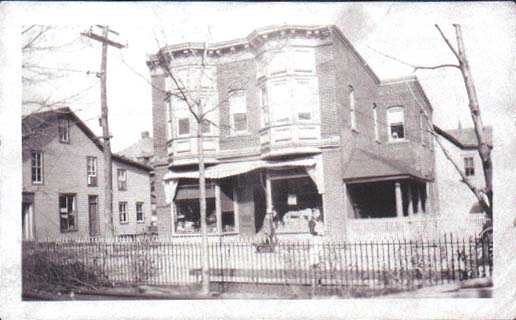 Taken in the 1920s, this photo at left shows both Reese's store and home (at left) where the Gabuzda Bros. first opened their business, and the new store/home built for them. The awning says "Gabuzda Bros." Photo from John Gabuzda.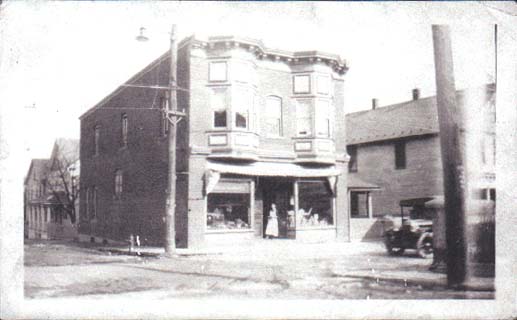 Also taken in the 1920s, at right, Gabuzda Brothers Meats & Groceries, 899 Centre St., Freeland Pa. The sign across top of left window says "Meat Market." Photo from John Gabuzda.

Ed Merrick, son of another Freeland grocer and a relative of the Gabuzdas, commented on these two photos: "My grandmother Remak was a Sarna, and her sister, Mary, was married to a Gabuzda. I sent the Gabuzda photos to my cousin, Ann (Reinsmith) Cravener, and she says the woman in the one photo is our great aunt Mary (Sarna) Gabuzda, my maternal grandmother's sister, and the car in the other photo belonged to John Stuntz, who had a store just south of Gabuzdas' that sold radios, phonographs, sheet music, and records. She wrote, 'It was always so shiny and polished. He had it for year and years, even after he bought a Packard for his teenaged son to use.'"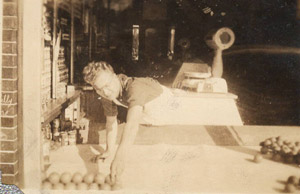 The photo at left comes from Marion Denion and Mary Cooper and shows
Stephen's son
Eddie working at his dad's store at the corner of Centre and Chestnut streets, arranging a display of oranges in the store window. As Bernice Gabuzda Clapper recalled: "This one-time prosperous business existed for 50 years, until the A&P came to town. Early on they had four delivery trucks serving the "patch" town residents ("patch" towns = coal company towns surrounding Freeland). They also carried canned, boxed, and baked goods, home cleaning and laundry supplies and notions. In the garage there were a smoke house and a slaughter house where they made their own sausages and scrapple. The Gabuzda Brothers were well known for their kielbasa sausage, their secret recipe."

As a side note, Stephen's son Eddie formed and led a swing band with a group of his MMI classmates in the mid-1930s. You can read about them on the page about Edward Gabuzda and his orchestra.

George and Stephen were in partnership for nearly 20 years, approximately 1914-1933. After that, they dissolved the partnership and Steve kept the store/house, while George took the Glen Almus Farm and eventually also opened his own store a few blocks away.


---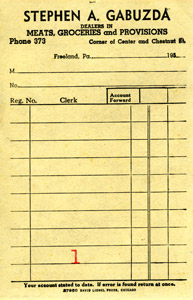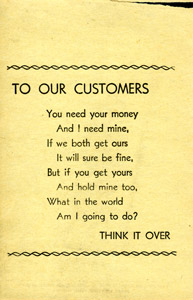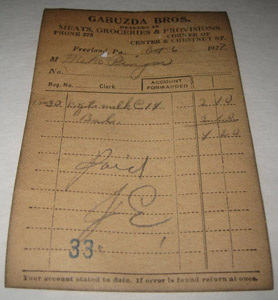 Gabuzda Bros. receipt, 1927. Stephen A. Gabuzda receipt, front and back, 1950s, from Marion Gabuzda Boyle Denion.








---





Stephen Gabuzda meat tape, from Marion Gabuzda Boyle Denion.



---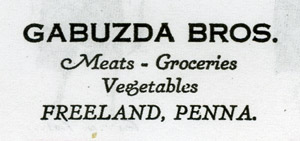 Letterhead at left from John Gabuzda; letterhead at right, with the slogan "If it's good to eat, we sell it," from Marion Gabuzda Boyle Denion.





---
Glen Almus Farm and Dairy

In 1922, the Gabuzda brothers branched out, partnering with S. S. Hess in Ayrshire Breeders and Dairy Corp., to acquire a dairy and truck farm. In 1927, the brothers bought the title to the 101-acre dairy farm, which they named "Glen Almus." It was on the old road to White Haven, across from Fairchild's swimming pool and recreational park. The buildings are still there and were/are a familiar sight for Freelanders driving toward White Haven and, a half-century ago, to the Popular Drive-In. The article at right comes from Tom Gabuzda and Marion Gabuzda Boyle Denion, dated circa 1943 and noting that owner George Gabuzda has received 60 steers. Note that the article also recalls earlier cattle drives for Matthias Schwabe's butcher business.

Bernice Gabuzda Clapper recalled: "They did their own milk bottling and house to house delivery. They were their own suppliers of many fresh products. In the early days, in addition to the Ayrshire dairy herd and bottling plant, they bred chickens, pigs and cows for slaughter, a truck farm for vegetables, a fruit orchard and cattle feed (soybeans, oats and corn). They entered their dairy herd annually in most of the Pennsylvania county Fairs earning many blue ribbons for first place. Some layer hens were kept in coops in their truck garage at the Freeland location from which came fresh eggs daily. Some customers were lucky enough to get them still warm from the nests. They employed a number of people, including 2 tenant families on the farm, in the store and on the road. Their sons also had to work after school and on Saturdays."

Ed Merrick also offered this recollection: "My grandmother Remak was a Sarna, and her sister, Mary, was married to a Gabuzda. I sent the Gabuzda photos to my cousin, Ann (Reinsmith) Cravener. She said the Glen Almus Dairy was owned by our great uncle Steve's brother, George Gabuzda, and that he also raised turkeys there, 'a lot of them,' but she doesn't know where it was located. She said, 'We drank the Gabuzda milk for years. It was raw, but no one ever got sick from it.'"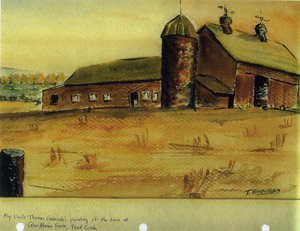 Painting of Glen Almus Farm by Thomas G. Gabuzda, M.D. Photo from John Gabuzda.









---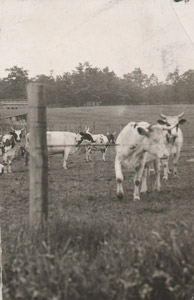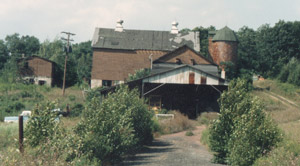 Here are the award winning Ayrshire cows in the 1930s and a 1985 photo of the Almus Farm, Pond Creek, 3 miles east of Freeland, Route 940. Photos from Mary Cooper.












---



Glen Almus letterhead, from Marion Gabuzda Boyle Denion.




---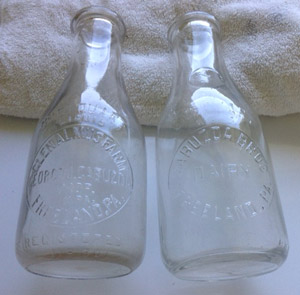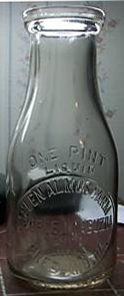 Bottles with the mark of Glen Almus Farm. Photos from Marion Gabuzda Boyle Denion.










---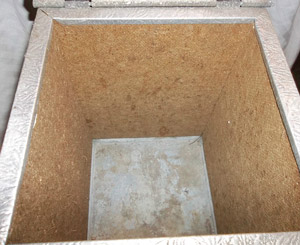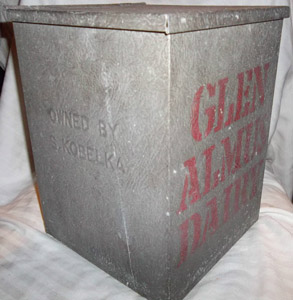 A Glen Almus Dairy milk box. We had one of these on our porch! Such boxes were a common sight in the days of regular milk and dairy product delivery. The center photo shows that the inside of the box had a kind of "insulation" to help keep the contents cool until the customer removed them to put in their refrigerator, and the left photo shows the name of Steve Kobelka stamped on the side. Steve Kobelka was our milkman when I was growing up in Freeland.



---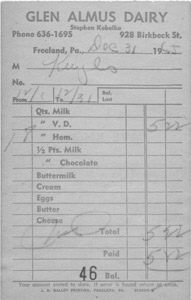 Billy Kuklis shared with me some scans of paperwork from his father's bar recently, and one of the receipts was from Stephen Kobelka, Glen Almus Dairy. I wrote to Marion Gabuzda Boyle Denion to ask how Mr. Kobelka came to be associated with the Glen Almus Dairy. She checked with her cousin Thomas G. Gabuzda, M.D., son of George Gabuzda, who shared this recollection: "I saw a lot of Steve Kobelka when I was a kid in the 1930s & 1940s. He worked for my father as the milkman when my father had the herd of Ayrshire dairy cattle. My father auctioned off the herd when he went out of the milk production business, probably around 1943. The Glen Almus Dairy business continued as my father switched to a cooperative milk supplier. He then sold the business to Steve Kobelka, probably in the late 1940s, before he died in 1951. The Glen Almus farm was sold at auction in March 1952 on a very bad weather day. By the date on the receipt, Steve had been running the business for some time. After my father sold the dairy cattle, he went into raising Black Angus beef cattle for his meat market. I don't remember who bought the farm in 1952. We know that Steve Kobelka continued his dairy business under the name Glen Almus Dairy for quite some time." [at least into the 1960s – CT]



---

Going separate ways in 1933

From John Gabuzda: The brothers ran the store at Centre and Chestnut streets and the Glen Almus farm together until they decided to dissolve their business partnership in 1933. At that time, they agreed that Steve would keep the store/house at 899 Centre, while George would take over the Glen Almus Farm. George also operated several shops over the next 18 years in Hazleton and Freeland, until he died in 1951. John recalled: "His last shop I think was in the brick building on the corner of Centre/Front; his was the unit one store from the corner that housed the Garden Chen restaurant [before it was relocated near the Refowich senior apartments – CT]. My Dad operated the farm for a year by himself while working fulltime at PP&L. The store was closed and the farm sold at auction about then. Before he died, my grandfather George turned Glen Almus into a beef cattle farm, in the 1940s." Steve Gabuzda died in 1966.


---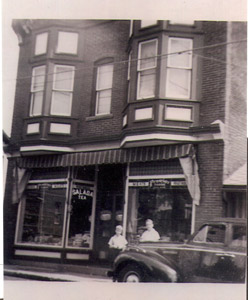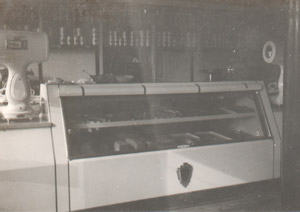 Stephen Gabuzda's store at 899 Centre St. around 1950, and the new meat showcase after 1940 remodeling. Photos from Martha Gabuzda Cooper, scrapbook.














---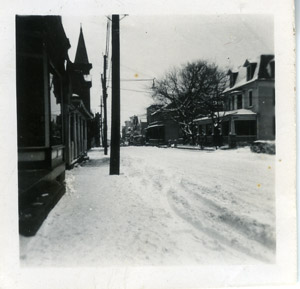 Left: Centre street looking south, part of Gabuzda store, Stuntz music store, Borough Building tower on left. Koehler home on right.
Right: Corner Centre and Chestnut streets looking north, Gabuzda store and house on right. Kushner-Herkalo store and home on left.
Photos from Marion Gabuzda Boyle Denion.







---

Meanwhile, George opened his own store a few blocks away, which his grandson John recalled was "... in the brick building on the corner of Centre/Front; his was the unit one store from the corner that housed the Garden Chen restaurant" [before it was relocated near the Refowich senior apartments – CT].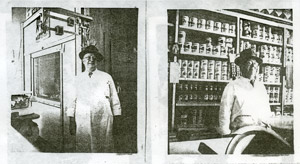 George Gabuzda at his store on Centre street near Front street. Photos from John Gabuzda.

Ed Merrick wrote: I looked more closely at the two photos of George Gabuzda in the store and would like to point out an interesting detail: In the photo on the left, notice the claw hook dangling just about George's hat. It is attached to the beam scale above. When the meat provision companies from Hazleton delivered a side of beef to the store, the beef was hung on the claw and weighed. Notice the weights on the scale above George. I would guess that the room-like structure with the window behind him is a walk-in cooler, where the side of beef was stored until George cut it up. We had both items in our store at 355 Center Street and bought our beef from C&R Provision Company in Hazleton. I spent many an hour with frozen hands trimming meat from bones, which I then ground up into hamburger. Every week, what we called the tallow company would arrive to pick up the fat and the bones we had trimmed and hadn't sold for making soup, weigh the lot, and pay us for the trimmings. During World War II, the fat and grease that housewives brought in was collected and used for making explosives.



---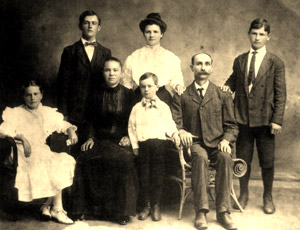 In early 2018 Ed Merrick wrote: "I just found this wonderful photo, which connects the Sarnas with the Remaks and the Gabuzdas. Seated are Mary Sarna (Steve Gabuzda), my great-grandmother Anna Sarna, Andrew Sarna, and great-grandfather George Sarna, and standing George Sarna, my grandmother-to-be Anna Sarna (Michael Remak), and John Sarna."








---

Bernice Gabuzda Clapper recalled some additional things about the brothers that she wanted people to know: "During the Great Depression years of the 1930s they kept many families 'on the books,' later canceling some of those debts, causing indebtedness to themselves. George sat on the Board of Directors of the Citizens Bank. Both brothers were active members of the Freeland B.P.O.E. (Elks Club), doing charitable fundraisers and other good works. They financed one of the side altars of the St. John's Nepomucene Church (Slovak) when it was newly erected. They were for a time partners in ownership of a mahogany forest in British Honduras."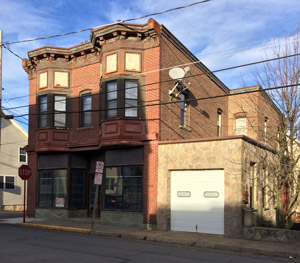 The original Gabuzda Brothers building is still there today on the corner of Centre and Chestnut streets.










---
Two more businesses related to the Gabuzdas
Andy Hasara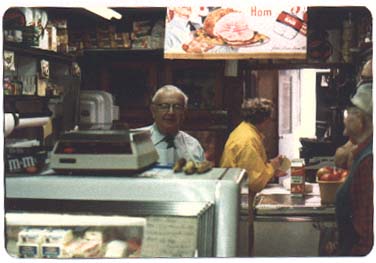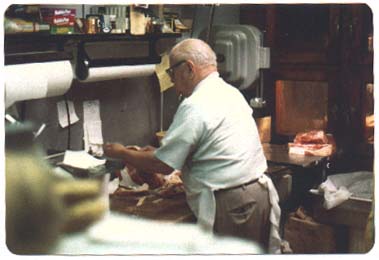 In 1922, the Gabuzda brothers' nephew Andy Hasara arrived from Slovakia and apprenticed to their business, briefly living with Steve. Andy married Sue Soltis around 1930 and opened his own butcher shop in 1932 at 615 South street, on a property that originally held a horse stable and then moving van business (building still there behind the store) owned by Andy's wife's family. The article below left notes that Veto Poleri built the store at the request of Andy's uncle Andrew Soltis, Sr. The ad below left was for the store's opening day. Both items from Ed Merrick.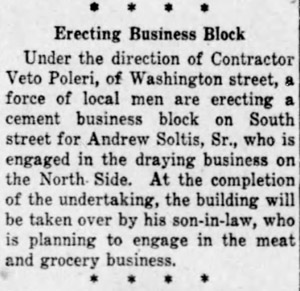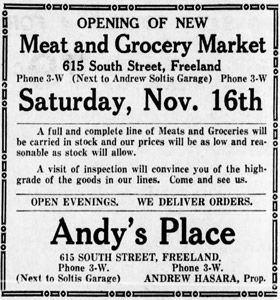 Bernice Gabuzda Clapper had mentioned that the Gabuzda Brothers were well-known for their kielbasa sausage, their secret recipe. In recent years it was still being made by their grand-niece, Mary Witherall, who ran the business after her father's death on an intermittent basis, including filling special orders during the Easter season, some from former Freeland residents living miles away.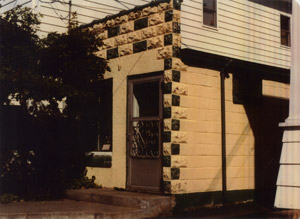 She learned to make these specialty foods from her father, Andrew Hasara, who had been apprenticed to Stephen and George before opening his own shop on South Street, known as "Andy's Market."

Andy Hasara at work, and a view of his store building on South street. Photos from John Gabuzda.




---
George Palya
George Palya was born in Slovakia (then part of the Austro-Hungarian empire) in 1872 and came to the U.S. around 1886, settling in Freeland.
He opened a meat business and grocery store at 452 Centre Street, right in the center of the business district. He had a slaughter house behind the store, and a meat wagon for making deliveries. He took his nephews, Stephen and George Gabuzda (also recent Slovak immigrants), on as apprentices, giving them the start they needed in order to get a foothold in their own business. See the page on George Palya for more information.


---

Emri Silvasi

Another more distant family relation in the Slovak butcher businesses was that of Emri ("Imre") Silvasi. John Gabuzda recalled: "George Gabuzda married Anna Silvasi of West Hazleton; her father Joe Silvasi ran a bar, Silvasi's Corner, there. Joe's first cousin (?) was Emri, who owned a butcher business at 409 Centre street in Freeland [just north of where McNulty's Funeral Home had been – CT]. We have no photos or documents of his business, but my mom & dad both have some memories of it, if you haven't got that one in your map of Freeland. Not sure on the dates of that business, but my mom shopped there in say, the late 1920s, early 1930s, so he was a contemporary of Palyas and Gabuzda Bros."

Emri Silvasi's name also comes up on the page about Merrick's grocery.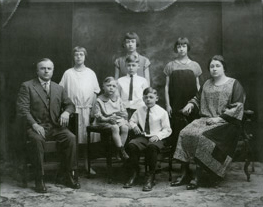 Emri Silvasi family. Photo from John Gabuzda.