Announcing Confluence 2000
Science Fiction for the New Millennium
Confluence 2000, the 12th Annual Pittsburgh Science Fiction Conference, will take place 25-27 February 2000, at the Sheraton Inn North, Mars, PA. For further details, click here.
Confluence '98

Return to Mars

With Guest of Honor The Eleventh Annual Pittsburgh SF Conference
Other guests include:
Michael Swanwick, Charles Sheffield, William Tenn, Sarah Zettel, Joe Mayhew, Catherine Asaro, Brenda Clough, David Hartwell, Kathryn Cramer, Bud Sparhawk, Mary Soon Lee, Karen Taylor, Tim Esaias, Joe Clifford Faust, Thomas Gressman, James Morrow, Tamora Pierce, Susan Dexter, Hal Clement, Grant Carrington, William H. Keith, John DeChancie, Andrew Keith, Karen Rose Cercone, Lawrence C. Connolly, Donald Marinelli, Ph.D., Ken Chiacchia, Nancy Janda, Julia Ecklar, Richard Griffiths, Robert Nansel, Charlie Robinson, Robert Kormos, Zhexi Luo, Barry Hirsch, MD
Confluence '98 will be held at the Sheraton Inn, Mars, PA, near the intersections of Interstates 79 and 76, September 4-6, which is Labor Day weekend.
The time to register is now!
Pre-registration prices end August 1st, and you don't need to pay the extra cash. The hotel block closes August 12th, so get your room now, too. The Sheraton phone number has changed, and they have not yet updated the site (as of 7-22), so remember to call 724-776-6900.

ConFluence is:
A small, friendly con focused on the literature and art of Science Fiction and Fantasy.
Many award-winning authors and editors who enjoy meeting and talking with Confluence members.
Panel discussions and talks that will broaden and deepen your appreciation of Science Fiction and Fantasy.
Poetry readings, filk concerts, and other entertaining fare.
A taste-testing consuite, a boffo art show, and a book-crammed dealers room.
Confluence is about programming that lets SF&F fen hear about the views and visions of some of the leading authors, editors, and critics in the genre. Some panel topics this past year were: "Before Gernsback and Tolkien," "Why Do SF Fans Love Jane Austen," "The Heirs of Dumas: SF and Fantasy Adventure," "Is SF in trouble," "War of the Worlds: A Retrospective," and "The Trial of Robert A. Heinlein." What other con would put Robert A. Heinlein on trial? We'll let you in on a little secret: John W. Campbell is next to go before the bar.

To complement the panel discussions, we also have a full slate of art demos by several very accomplished artists, and entertainment items that span the spectrum from poetry readings to filk concerts to the annual farce presented by the Parallax Second Players. Never a dull moment, but if you need a break you can't go wrong by spending some time in our well-provisioned consuite chatting with guests and other members.

The Art Show Rules are now on-line.

If it seems to you that Confluence will be a little later this year than usual, you're right. Since those Baltimore Bucconeers have absconded to early August with the '98 WorldCon, we decided to snatch up Labor Day Weekend! And if that isn't good enough, we're going back to the informality, back to the spaciousness, back to the close-by eateries, and, most precious of all, back to the totally free parking of the Sheraton Inn in Mars, PA. The Sheraton is a beautiful hotel that is particularly well-suited for a science fiction convention of our size: we know you'll enjoy being there.

Address questions to PARSEC at parsec-home@netcom.com.

Adult memberships for the full weekend (Friday through Sunday) are just $25, if purchased before the pre-reg deadline of August 1st, 1998, and $35 thereafter. Children's memberships (ages 6 - 13) are $15 until August 1st, and $20 thereafter. Children 5 and under may attend free provided they are accompanied by a responsible adult at all times.

Membership prices for just part of the weekend are as follows:
__________Adult___Child
Fri-Sun.........$35_____$20
Fri&Sat.........$28_____$15
Sat&Sun.......$30_____$15
Fri..................$12_____$8
Sat.................$20_____$10
Sun................$15_____$10


Friday - programming starts at 4, Con Suite opens at 5, Art Show & Dealer's are open from 5 to 8 pm.

Inquiries about Dealers' Tables should be addressed to James Walton at jjwalton@telerama.lm.com.

Print out our registration form, or send a self-addressed, stamped envelope to:
OUR ADDRESS:

Confluence '98,
P.O. Box 3681,
Pittsburgh, PA 15230-3681,
phone: (412) 344-0456
Make all checks payable to Confluence.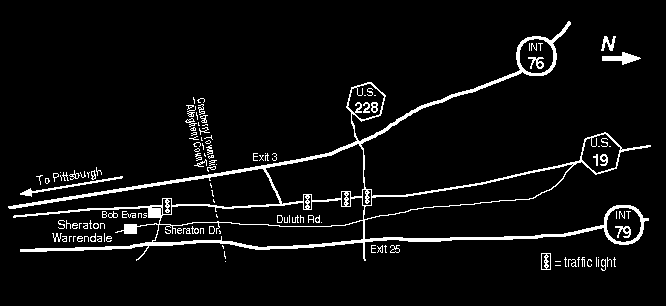 Here's a map to the hotel! Note that:
Exit 3 from I-76 and Exit 25 from I-79 are both marked "Cranberry".
Exit 25 is on the south side of the hotel if coming from the south, and puts you onto route 19 one light from the hotel turnoff (on the right).
Room rates for the Sheraton Inn North during Confluence is $87 for single/double/triple/quad occupancy. Folks reserving rooms MUST do so directly with the hotel and not via the national 800 number. The direct dial number for the hotel is (724) 776-6900 and the room block is held under Confluence.
Click here if you would like information on advertising in our program book.
A note for World Weavers: Weaver Con 2 will be here. If you wish to attand and need a roommate, look at this list of folks that want to share a room.
Security provided by the Dorsai Irregulars.
Check out the Fandom Directory
Still not convinced this is a great way to spend Labor Day Weekend? See what you missed last year.
---
LE FastCounter
---
Greg D Armstrong Last modified: Tue Mar 30 13:46:38 EST 1999