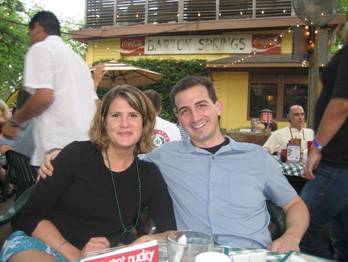 Earl Crane
Adjunct Professor, Heinz School
Carnegie Mellon University

mystie3k at cmu * edu
earl at cranesnest * net
earlcrane at gmail * com

Home address:
Washington, DC



Current Research Projects:

Information Security in the Federal Government

Social Media
Abstract: The use of social media for federal services and interactions is growing tremendously, supported by initiatives from the administration, directives from government leaders, and demands from the public. This situation presents both opportunity and risk. Guidelines and recommendations for using social media technologies in a manner that minimizes the risk are analyzed and presented in this document.
This document is intended as guidance for any federal agency that uses social media services to collaborate and communicate among employees, partners, other federal agencies, and the public.
Note: The Federal CIO Council does not endorse the use or imply preference for any vendor commercial products or services mentioned in this document.
Cloud Computing
Information Security and Insider Threat
Trust has been extensively studied by sociologists, but only recently has this been reviewed from a standpoint of establishing online trust. Emerging thought leaders in the online world explore this with trust-based marketing, but the new medium of the internet creates a new, unexplored space. This KAM Breadth component reviews the history of establishing trust in three sections: Interpersonal Trust, Team Trust, and Societal Trust. Interpersonal trust has a long history, dating back to the ancient world, while team trust is relatively new with industrialization. Societal trust is the newest and largest in scope, encompassing both societal trust and trust in abstract systems. Trust in abstract systems guides the focus of the KAM Depth component, trust in information systems.

Trust is usually considered a humanistic quality, and has varying interpersonal or societal theories as discussed in the Breadth Component. Now I look exclusively at trust as it applies to information systems, and consider trustís influence on technology adoption and insider threats. Trust affects technology adoption as users may require that assurance or perceive a risk encouraging them to adopt technology. Insider threats apply specifically to information system espionage, IT sabotage, and theft, of which trust is an enabling factor in multiple aspects. This article addresses current trust theories as they relate to insider threat and information system adoption, and identifies common themes throughout them all.

This paper contains training content for an insider threat awareness program. This material was combined with the breadth and depth components to create a one hour presentation, delivered to system owners and information security managers. The awareness program provides background information to the issues of trust, technology adoption, and insider threat. It concludes with a set of thirteen recommendations for managers to reduce the risk of insider threat, compiled by Carnegie Mellon.


Current Bio
http://www.heinz.cmu.edu/faculty-and-research/faculty-profiles/faculty-details/index.aspx?faculty_id=26

Federal Bio

Current Courses Taught:

(95-857) Incident Response
http://www.heinz.cmu.edu/current-students/course-results/course-details/index.aspx?cid=361
Computer intrusions and security incidents are a part of life. Responding to these incidents is complex due to the technologies and disciplines involved. Effective response requires an understanding of technology, investigative sciences, legal requirements, and political considerations.
System and security administrators as well as managers are often asked to respond to and resolve incidents, but rarely have the requisite knowledge to do so. This course teaches the theory and principles of incident response through a hands-on and practical approach.
Students will see common network attacks first hand, and then learn the specific steps and methodology necessary to resolve the incident. They will learn how a particular attack leaves a signature, and will be given the tools to identify those signatures. Students will then use those tools to identify unknown attacks, both in lab settings and projects.
The entire lifecycle of incident response is covered, from pre-incident preparation through notification, initial response, and recovery. Real world case studies will provide insight into the computer crime cases that corporations and government are currently facing. Guest speakers with computer forensics and law enforcement backgrounds may be invited to speak.

Goals:

Learn a methodology for identifying and resolving computer security incidents

Gain hands-on experience using the tools and techniques currently used by government and private industry to respond to incidents

Introduce the forensic process and legal requirements of response

Learn unique critical thinking skills

(90-895) Policy Topics: Information Security Policy
http://www.heinz.cmu.edu/current-students/course-results/course-details/index.aspx?cid=417
Federal IT systems face a dizzying array of policies, regulations, and government initiatives, issued from multiple sources. Many of these issues are unique to government IT systems, and the wide range of compliance requirements make securing and managing a government IT system more complex than many commercial IT systems. From nation-state attackers to collateral classified information and above, federal IT security managers deal with a wide array of security issues beyond commercial America.
This course will provide second year masters level students with aspirations of serving the United States government, either as a contractor or as a public servant, the knowledge and background information necessary to effectively govern the security of federal IT systems. Students in this program will be exposed to the historical context leading up to modern information security policy, and the current issues and trends influencing todayís decision makers. The calling to secure these systems is great and the intellectual resources are slim. We must defend our homeland against threats foreign and domestic, known and unknown, to ensure our national, state, and local policy decision makers and first responders have the IT resources they need to operate in a time of crisis. Their ability to communicate securely and efficiently lies in your hands.
Groups
CMU Alumni in DC
http://www.cmu-dc.com/

Infragard
http://www.infragard.net/

ISACA
http://www.isaca.org/

ISC2
https://www.isc2.org


Page of useful links
Current Google Reader OMPL File Output
google-reader-subscriptions.xml

News
DHS Daily Open Source Infrastructure Report
http://www.dhs.gov/xinfoshare/programs/editorial_0542.shtm
Global Incident Map
http://www.globalincidentmap.com/home.php
BBC News | News Front Page | World Edition
http://news.bbc.co.uk/
washingtonpost.com - Technology - Industry News, Policy, and Review
http://www.washingtonpost.com/wp-dyn/content/technology/index.html
Engadget
http://www.engadget.com
Gizmodo
http://www.gizmodo.net
New York Times
http://www.nytimes.com
The Register
http://www.theregister.co.uk
Slashdot
http://slashdot.org
Wired News: Top Stories
http://www.wired.com


Security
2600: The Hacker Quarterly
http://www.2600.com/
codesecurely.org
http://www.codesecurely.org/default.aspx
SANS NewsBites
http://www.sans.org/newsletters/newsbites/newsbites.php
Security Fix
http://blog.washingtonpost.com/securityfix
SecurityFocus News
http://www.securityfocus.com
Mark Curphey - SecurityBuddha.com
http://securitybuddha.com
Schneier on Security
http://www.schneier.com/blog/
TaoSecurity
http://taosecurity.blogspot.com/index.html
Counterterrorism Blog
http://counterterrorismblog.org


Industry Rag
SC Magazine US Latest News
http://www.scmagazine.com/us
FCW.com
http://www.fcw.com
CNET News.com
http://news.com.com
InformationWeek Security News
http://www.informationweek.com/security/
eWEEK Security
http://security.eweek.com

Blogs
Agile Management Blog
http://www.agilemanagement.net/Articles/Weblog/blog.html
DCist
http://www.dcist.com
Southern Poverty Law Center: Hatewatch
http://www.splcenter.org


Resources
SANS Information Security Reading Room
http://www.sans.org/reading_room
Software Engineering Institute (SEI)
http://www.sei.cmu.edu