What's on this page:
Images

Water services listed in directories and on maps 1895-1940
On related pages:
---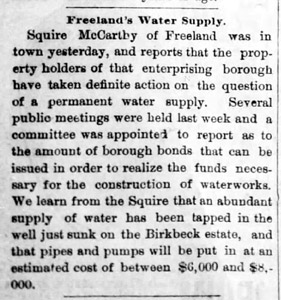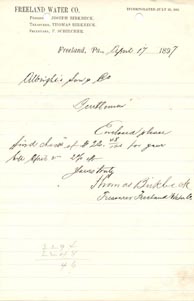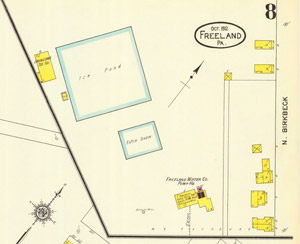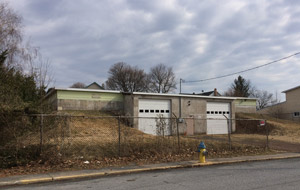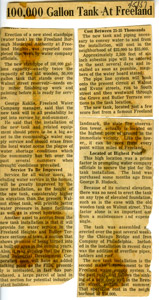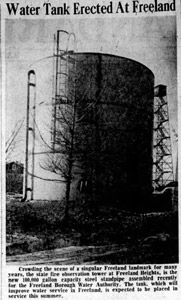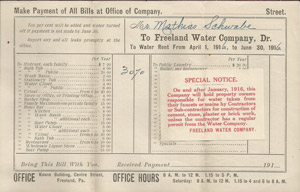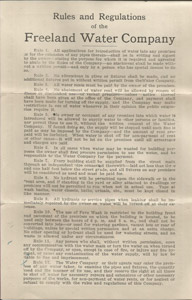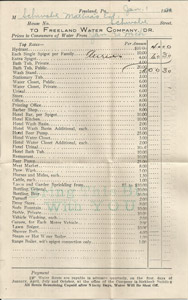 The Freeland Silk Mill shown at top left corner was on Birkbeck Street next to the Freeland Water Company, and the water tower can be seen just behind the factory.

Top row: 1879 clipping about organizing the Freeland Water Company; 1881 clipping about Freeland's water supply; Freeland Water Company bill, 1897.

Middle row from left: Johnson's Ice Pond and Freeland Water Co. pump house on 1912 Sanborn map; old reservoir on Walnut Street, referred to in 1926 as the "main reservoir on Birvanton Hill"; article about new water tank being built, courtesy of Ed Socha; news photo of the tank from Ed Merrick.

Bottom row: A Freeland water bill from 1916 that includes the rules and regulations of the company and the itemized prices for water services. The bill also contains a "Special Notice" printed in red relating to whether and how property owners would be billed for use of water from their fixtures by subcontractors. This bill comes to us courtesy of John "Zeke" Zurko, and thanks also to Joe Moore.


---



Water services listed in directories and on maps 1895-1940





1895 South Heberton city directory




In individual listings:


Birkbeck, Thomas, real estate and treasurer, Freeland Water Co., Birkbeck St., h
Fisher, Henry H., supt., Freeland Water Co., 10 Birkbeck St., h
Freeland Water Co., Joseph Birkbeck, president; Thos. Birkbeck, treasurer; Henry Fisher, supt., Frank Schilscher, secretary, 13 Birkbeck St., w
Schilscher, Frank, secretary, Freeland Water Co.



1895 Sanborn Fire Insurance Co. map


Freeland Water Co.



1897 city directory




In business listings:


Freeland Water Works - 10 Birkbeck; Henry Fisher supt.



1897 city directory




In individual listings:


Fisher, Henry H., supt., Freeland Water Co., 10 Birkbeck, h



1900 Sanborn Fire Insurance Co. map


Freeland Water Co.'s Works



1900-1901 city directory




In business listings:


Freeland Water Co., F. Schilcher, secretary



1905 Sanborn Fire Insurance Co. map


Freeland Water Co.'s Works



1912 Sanborn Fire Insurance Co. map


Freeland Water Co.



1921-1922 city directory




In business listings:


Freeland Water Co. – Birkbeck Bldg.



1923 Sanborn Fire Insurance Co. map


Freeland Water Co.



1929 Sanborn Fire Insurance Co. map


Freeland Water Co., Office, &c.



1940 city directory




In business listings:


Freeland Water Co. - 711 Birkbeck




And, from the 1940 Federal Census, thanks to Ed Merrick:



Water Company - 833 Main St., (Edward Bell, manager) (age 58 in 1940 Census)

Edward Bell - 833 Main St., manager, Water Company (age 58 in 1940 Census)