What's on this page:
Images

Electricity and energy services listed in directories and on maps 1895-1940
On related pages:
---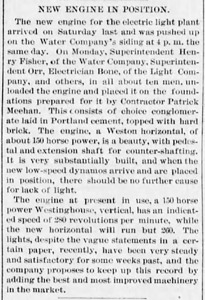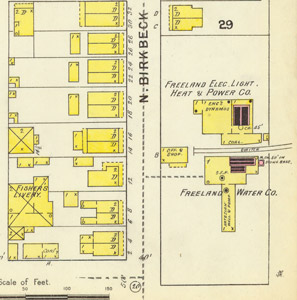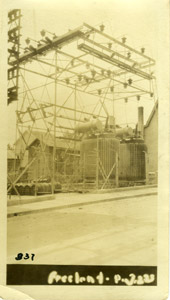 The

Freeland Tribune

article at left reported delivery of a new electical engine in December 1894. The 1895 Sanborn Fire Insurance map detail shows the power company and water company on Birkbeck street. The photo was described as showing an electrical station in Freeland, ca. 1920s.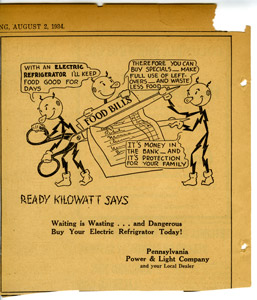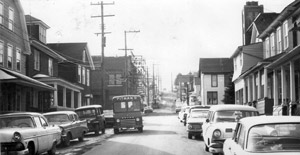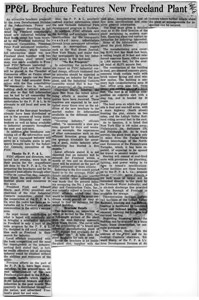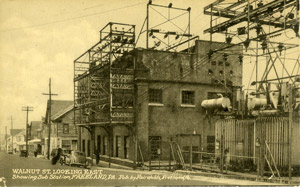 The Ready Kilowatt ads, dated ca. 1934, came from Charlie Stumpf. The view up Walnut Street looking toward PP&L and the PP&L postcard both come from Ed Merrick, and the 1966 article about the plans for a new PP&L plant in Freeland comes courtesy of the Standard Speaker.


---



Electricity and energy services listed in directories and on maps 1873-1940





1895 South Heberton city directory




In individual listings:


Electric Light, Heat and Power Co., Raymond D. Meyer, supt., Birkbeck St. near Walnut St., w



1895 Sanborn Fire Insurance Co. map


Freeland Electric Light, Heat & Power Co.



1897 city directory




In business listings:


Freeland Light, Heat and Power Co. - Birkbeck near Front; R. E. Meyer supt.



1897 city directory




In individual listings:


Freeland Light, Heat and Power Co., Birkbeck near Front, w
Meyer, R. E., Freeland Light, Heat and Power Co., E Front, h



1900 Sanborn Fire Insurance Co. map


Freeland Electric Heat & Power Co.



1905 Sanborn Fire Insurance Co. map


Freeland Electric Heat & Power Co.



1912 Sanborn Fire Insurance Co. map


Harwood Elec., Heat & Power Co.



1912 telephone directory




In general listings:


Freeland Elec Light, Heat & Power Co – Birkbeck



1917 telephone directory




In general listings:


Hardwood Electric Co., Sub-Station - Centre [Harwood – CT]



1921-1922 city directory




In business listings:


Pennsylvania Power & Light Co. – Centre cor Walnut



1923 Sanborn Fire Insurance Co. map


Pennsylvania Power & Light Co., Office and Sub-station



1928-1929 city directory




In business listings:


Pennsylvania Power & Light Co., 736 Centre



1929 Sanborn Fire Insurance Co. map


Pennsylvania Power & Light Co., Office and Sub-station



1940 city directory




In business listings:


Pennsylvania Power & Light Co. - 736 Centre



And, from the 1940 Federal Census, thanks to Ed Merrick:



Paul Tucker - 947 Burton St., clerk, PP&L (age 43 in 1940 Census)

Clifford Zierdt - 126 Ridge St., Foster Township, district manager, PP&L office (age 36 in 1940 Census)