What's on this page:
Images
Telephone and telegraph services listed in directories and on maps 1897-1940
On related pages:
---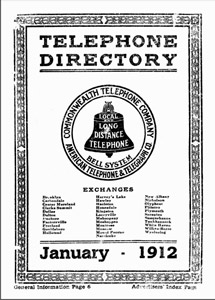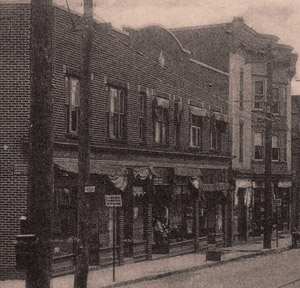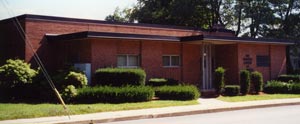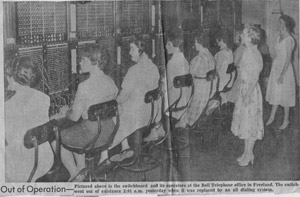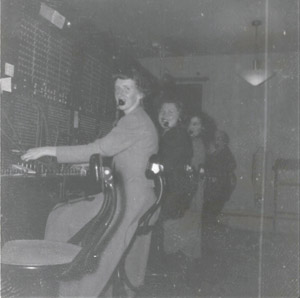 The photo at top left and its enlarged view, top row center, show the Mulhearn building which housed the telephone exchange on the 2nd floor, courtesy of the Freeland Historical Society. The photo to the right of that shows the

new Bell Telephone building built around 1963

.

The two photos of telephone operators working in the Mulhearn building come from Joe Moore, who notes that the news photo at left was from June 18, 1962. Charlie Gallagher remembers:

The Freeland's exchange converted over to automated dialing around 1963 or 1964 when the new bell telephone building was constructed in the 100 block of center street (I can remember the bell telephone people coming to the schools to educate the students on the change). ... Prior to the new bell building, Freeland had operators on the second floor in the building across from Woodies (above Danko Electric, Mac's Camera Shop, Wolfe Insurance). Helen Faux was one of the operators (she was our next door neighbor and gave me the nickname "chipper"). I can remember picking up the phone and if Helen was on she would immediately say "hello chipper" and I would tell her I wanted to call my Aunt Sue, or Grandma and she knew what line to connect me to. Really neat when you're a 5 or 6 year old kid

.


---



Telephone and telegraph services listed in directories and on maps 1897-1940





1897 city directory




In individual listings:


Baumgardner, E. F., telegrapher, N Ridge near Walnut
Boyle, Bernard, telegrapher, 30 Ridge, h
Fetterman, Eugene, telegrapher, 20 E Front, h
Peters, Charles, telegrapher, Centre corner Walnut, h
Sipple, John, telegrapher, 65 N Ridge, h
Welsh, George, telegrapher, 64 S Ridge, h
Winters, Lewis, telegrapher, 100 S Washington



1900-1901 city directory




In business listings:


Central Penn. Telephone & Supply Co., Front
1917 telephone directory
In general listings:
Drifton Post Office, Public Telephone – Drifton
Drifton House, Public Telephone – Drifton
McMenamin & Ferry, Public Telephone - 506 Centre
Schlecher's Drug Store, Public Telephone - 722 N. Centre
Washington Hotel, Public Telephone - 819 Walnut



1921-1922 city directory




In business listings:


Bell Telephone Co. – 703 Front
Consolidated Telephone Co. – First National Bank Bldg.
Western Union Telegraph Co. – S. Centre at L V R R Depot



1928-1929 city directory




In business listings:


Bell Telephone Co., 633 Centre
Lehigh Telephone Co., 633 Centre



1940 city directory




In business listings:


Bell Telephone Co. - 635 Centre
Western Union Telegraph Co. - 608 Centre



And, from the 1940 Federal census, contributed by Ed Merrick:


Anna Murin, 50, telephone operator, 933Washington Street
Rebecca Murin, 23, telephone operator, 933Washington Street
Doretta Zierdt, 27, telephone operator, 9 Main Street, Upper Lehigh
Celestine Johnson, 27, telephone operator, 1131 Birkbeck Street