What's on this page:
Sewing machine sales
Fabrics
Sewing notions

On related pages:
---

FOR THOSE WHO WANTED TO MAKE THEIR CLOTHES, OR SEW FOR OTHERS:

It seems that the earliest textile/clothing factories in Freeland were begun in the late 1890s: Freeland Overall in 1896, Freeland Silk in 1897. And from its earliest years Freeland had ready-made clothing stores along with tailors, seamstresses and dressmakers offering to make (and alter and repair) clothing. But many people also made their own clothing and sewed for their families. Those who sewed at home for family or as a home business needed supplies.


---
There are 3 topics here: sewing machines, fabrics, sewing notions.
Sewing machines: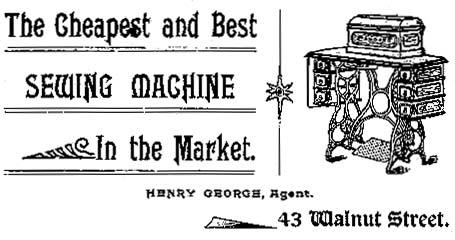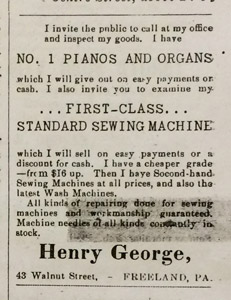 Sewing machines were available for sale in Freeland at least since 1894. Henry George sold Standard brand sewing machines at his store at the northwest corner of Walnut and Washington streets. The ad at left is from an 1895 directory; the one at right is from 1894 and comes from Carol Jones. Note the other things listed in that ad as available for purchase from Henry George.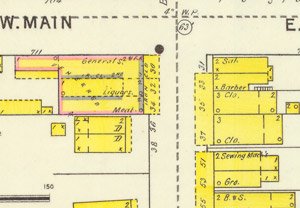 The 1895 Sanborn map also shows sewing machines being sold at 51 S. Centre, a few buildings south of Main St. [this address is now 527 Centre St.]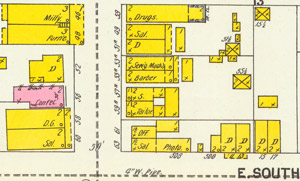 J. A. Christy sold sewing machines at 53A S. Centre [this address is now 511 Centre] at least from 1897. He was also listed as a sewing machine agent at that address in 1901-1902. By 1905 that address was just a dwelling, and by 1912 there was a tailor there. In the 1921 and 1928 directories James Veraldi was listed there: Ladies' and gent's tailor, Repairing, cleaning and pressing.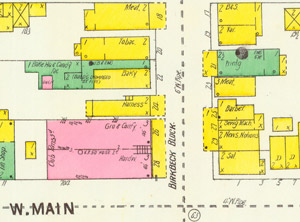 There was also a sewing machine business shown on the 1905 Sanborn map at 27 S. Centre, a little above Main St. [this address is now 607 Centre St.]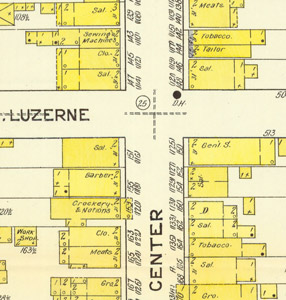 In 1912 there was a sewing machine business at 143 Centre [formerly 110, now 406 Centre St.]. In the 1917 Scranton phone book and the 1921-1922 Freeland directory Patrick J. Campbell is listed as selling sewing machines at 406 Centre St., but by 1928 that location is occupied by Mrs. Anna A. Campbell selling ladies' wear.

There's another sewing machine business in 1912 just up the street a few buildings at 133 [previously a millinery with address number 102, now 418 Centre St.].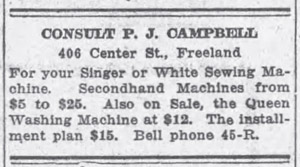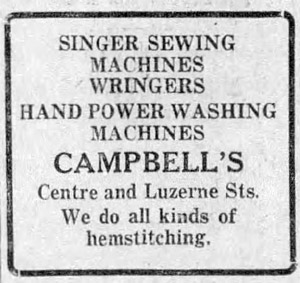 P. J. Campbell - 406 Centre St. - Singer and White sewing machines (from Ed Merrick, 1919 ad at left) - Centre and Luzerne Sts. (1923 ad at right)


The Singer Sewing Machine Agency was listed at 811 Luzerne Street in the 1928-1929 Freeland directory. In 1940 James M. Campbell was selling sewing machines at that address. [Was he related to the Patrick Campbell who sold them in the early 1920s?]


---
Fabrics: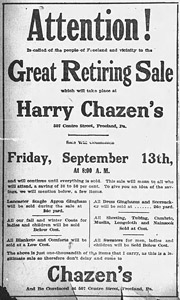 I haven't seen fabric stores listed on the early Sanborn maps, and I assume that people bought fabric at dry goods stores. They would also have gone to notions stores to buy other sewing supplies. Here's where fabrics could be bought in Freeland:



Bertha's Drapery Shop

- Center at Main - Jewelry, fabric, draperies, patterns, sewing notions - Centre & Main Streets



Chazen's

- 507 Centre St. - Fabric, toweling, towels (1918 ad at right from Ed Merrick)



W. T. Grant's

- 520 Centre St. - Children's and women's clothing, fabrics, home goods, patterns and sewing notions

(CT: In the 1950s and 1960s my mom sewed dresses, skirts, jumpers and even a prom gown and brocade long coat for me, and while I was in school at St. Mary's, in 7th and 8th grades my class would walk over to Freeland High once a week, the girls to attend Home Ec classes with Mrs. Hoch and the boys to Shop class there. So I started to learn to sew clothes then, and made a lot of clothes for myself in the 1960s and 1970s. You could still buy fabrics and notions in Freeland then. We bought patterns, notions and fabric at W. T. Grant's and Bertha's, as well as at Deisroth's and occasionally Marian's Fabrics in Hazleton. It was so much fun to see the new Simplicity, McCall's and Butterick pattern books when they showed up!)


---



Sewing notions:



There were a number of stores in Freeland selling "notions." Some of these were sewing notions stores, selling thread, scissors, buttons, snaps, hooks and eyes, hemming tapes, etc. I remember buying notions in the 1950s and 1960s at Grant's and also some (like buttons and zippers) at Bertha's.



Bertha's Drapery Shop

- Center at Main - Jewelry, fabric, draperies, patterns, sewing notions - Centre & Main Streets



W. T. Grant's

- 520 Centre St. - Children's and women's clothing, fabrics, home goods, patterns and sewing notions


The directories I have access to only show a few of these businesses:

1895 - Chestnut, E. - 93 Centre
1897 - Gill, Daniel, dry goods, notions, milliner, Centre corner South, h w
1900-1901 - Gill, Daniel, dry goods and notions, Centre; Park, W. H., millinery and notions, Centre; Jones, D. P., notions, queensware, etc., Centre
1928-1929 - Hudack, George B., 329 Centre
1940 - Zadra, Oliva - 401 Centre

BUT there are a few more "Notions" shops shown on the few Sanborn maps that label businesses by type. These don't usually list proprietors' names. I wonder whether "notions" might have had a different or broader meaning back then? The address numbers are older address systems in use back then - see Address numbering page for help in locating.

1895 – 25 S. Centre; 29 S. Centre; 55A S. Centre; 82 S. Centre; 93 S. Centre; 120 S. Centre; 156 S. Centre
1900 – 29 S. Centre [News, notions]; 120 S. Centre
1905 – 29 S. Centre [News, notions]; 120 S. Centre [Crockery, notions]
1912 – 40 S. Centre [formerly 29; News, notions]; 120 S. Centre [Crockery, notions]
1923 – most businesses not labeled by type on this map