Here are links to three pages containing previously posted photos and information from the Featured Photos section of the home page: earliest postings, more recent ones, and the most recent ones. They are credited to the sources.


Note: The featured photos listed immediately below have been relocated elsewhere on the website. The others further down on the page will be relocated once I make new places for them.
---

Freeland's 10th Anniversary Celebration, 1886, from Danny Balon - originally posted August 5, 2013 - now at http://www.andrew.cmu.edu/user/ct0u/1886-10th-anniv.html

Joseph Greshko's Bar and Restaurant, from Lori Germani Lupi and Vilma Kish Germani - originally posted July 5, 2013 - now at http://www.andrew.cmu.edu/user/ct0u/j-greshko.html

Ferrari / Bartel family with connections to hotel, saloon, beer distributorship, from Trina Bartel - originally posted 12-22-12 - now at http://www.andrew.cmu.edu/user/ct0u/stmarys-students-1896.html

Ralph Pecora and his tailor business (photos, AND a masters thesis about a his business), from Emily Pecora - originally posted April 4, 2012 - now at http://www.andrew.cmu.edu/user/ct0u/rpecora.html

DCM class photo of 1919 or 1920, from Ed Merrick - originally posted December 8, 2011 - now at http://www.andrew.cmu.edu/user/ct0u/frldstudentpics.html

Interior of Refowich Theatre, 1940s, from Ed Merrick - originally posted Nov. 20, 2010 - now at http://www.andrew.cmu.edu/user/ct0u/theaters.html

Ticket for Grand Ball at Haas's Hall, New Year's Eve, 1890 - originally posted Sept. 27, 2010 - now at http://www.andrew.cmu.edu/user/ct0u/dances-balls.html

Gubi from St. Mary's church in Freeland, from Ann Malenky Nakpairat - originally posted June 18, 2010 - now at http://www.andrew.cmu.edu/user/ct0u/stmarys-gubi.html

Frank Balon's bar, from Frank Balon - originally posted April 30 2010 - now at http://www.andrew.cmu.edu/user/ct0u/f-balon.html

A group photo including B. F. Davis - from Bill Davis - posted August 5, 2013 - now at http://www.andrew.cmu.edu/user/ct0u/bfdavis.html'

Banner of Freeland Lodge #878 of the Sons of Italy in America, courtesy of Jim Etheredge and Bob Zimmerman - originally posted summer 2020 - now at http://www.andrew.cmu.edu/user/ct0u/frld-sons-of-italy.html


---
Note: For recently received corrections or added information, search for double asterisks ** and maroon-colored headings.
** 8-20-16 - Scroll down about 2/3 of the page to see a question from Ed Merrick about Fairchild's swimming pool, in the section called Summer Fun.
---
Featured photos - Four sports teams, from Barbara Bartol Rentenbach and Bruce Bartko - posted 4-16-13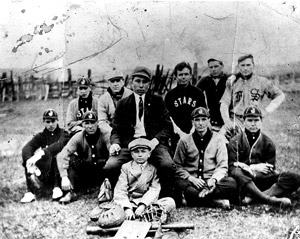 Jeddo Stars - Bruce Bartko sent this photo, with a note saying that it's possible that this could be the photo of the 1908 team, based on the roster for that team given in an article that I had sent to his sister, Katherine Bartko Leighton - the article that I have is missing the photo that was apparently published with it. Their grandfather, Mike Bartko, was on the team and is shown in the front row, far right.



** Note: I found the article and its 3 photos, and sure enough, this photo from Bruce is the 1908 team! Here's the roster as found in the article:

Front, mascot John Yalch; First row (from left), Mike Serock, Steve Batcha, man-ager Mike Bogansky, Mike Becker and Mike Bartko; Second row, Kelly Condrick Sr., Andy Sarosky, John Pavlinko, Gus Cherescavitch and Joe Makuta.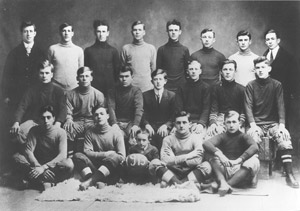 Freeland Yellow Jackets - Barbara Bartol Rentenbach sent this and the next two photos. Her grandfather, Wante Bartolo, is in the second row, at left.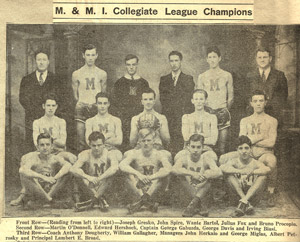 MMI Collegiate Champions, 1937 or 1938 - Barbara's father Wante Bartol is in the front row, center here. She says that he loved sports all his life, being a huge baseball fan.

Ah, Ed Merrick reports that the ball says 1936-1937. Thank you, Ed, for your eagle eye.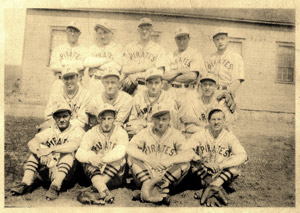 Hazle Brook Pirates, 1937 - Barbara's father played on this semi-pro team at age 17. Team members' names are written on the bottom of the photo [please let me know if I've mistyped any names]:
Dikie Litchko, Frank Midlick, Snuffy Bartol, Joe Dufallo, Horse Witchko, John Hynick, Gusard Sessack, Mushy Kovack, John Midlick, Billy Kovalick, Louis Paulshock.






Note: Some of you have sent me photos of sports teams in the past, and I have been hanging onto them and intending to post them on a sports section of this site. I'm hoping to start that section sometime soon, so at some point you should see your photos there. Please send additional photos if you have them and are willing to share. Please contact me about image sizes. Thank you! This site continues to improve in part based on contributions from site visitors, and we're all happy to share these stories and images online.


---
Crescents Football Team, 1902, sent by Curt Javic, posted in January 2012
I received this image from Curt Javic recently. Here's what he wrote about it: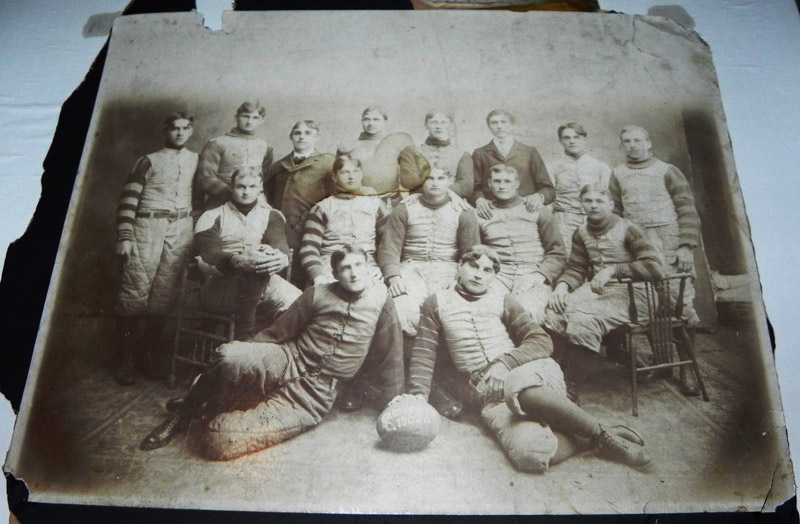 Chuck, here is a copy of the Crescents 1902 football team I have. The ball in the photo is marked Crescents 1902. ... After researching the names on the back most of the gentlemen are from Freeland or Foster Township . Therefore the team has to be from Luzerne County. Again the names on the back are as follows; John Nowak, J Coll, Bernard McLaughlin, Frank Hindson, Louis Stolz, Cony Welsh, H Sims, Cletus Fultz. Sitting – Geoge Hartman, John Dusheck, J. Motsko, John James Baskin, Harvey Deitrich, Peter O'Donnell, Aubrey Powell. [Louis Stolz at one time was the Police Chief of Freeland & was born in 1880, therefore in this picture he was 21- 22 years old.] I think therefore these people might be slightly older than say Freeland High School. I know there was a prep school in Freeland called Mining & Mechanical Institute that a lot of miners attended after work but to me these gentlemen don't appear to be miners. In 1908, I did find a semi–pro football team out of West Scranton called the Crescent Team but again that is pretty far from Freeland & also 6 years later. If anyone knows anything about this photo I would appreciate that info.
I wrote to Tom Landers, president of the Freeland Historical Society, former Freeland athlete and longtime local sports enthusiast, to ask what he knows about the team. Here's his very informative reply:
The 1902 Crescents - a very good team - all Freeland residents.
John Nowak - owned the pool room on Centre St.
Bernard McLaughlin, a mailman.
Louis Stolz - Chief of Police during 1920s, later a coal and iron police office. George Hartman - Freeland Burgess (mayor).
Connie Welsh - owned Welsh's Drug Store on Centre St.
Aubrey Powell - a small man but very fast runner; a Freeland page writer for the Standard Speaker in the 1930s-1940s, a penny per word.

I do not know if the field was named after the team or the team after the field. Crescents Field was located across from Alvin and Maple streets, and the outfield had a crescent running track around it. My high school baseball team (St. Ann's) played its home games on this field, 1948-1953.
Curt is interested in selling this photo, if anyone is interested. Here's his reason:
I bought it from a friend of mine in Renningers for way too much expense - $80.00. The reason I paid so much is that at the time we both thought it was the Crescents Rowing Club in Phila. They were a major rowing club in Phila. - late 1880-early 1900's. They also played some semi pro football. I collect anything to do with very early Phila. semi-pro football. Even at that price I was thrilled to get it. If anyone is interested in it I would mail at my cost or less or offer it in a trade for something. It is a pretty big photo in rough shape.
If anyone has additional information to offer about the Crescents Team or the individuals in the photograph, would you please let me know? Also, if you're interested in contacting Curt about the photograph, please let me know and I'll put him in contact with you. Thanks!

** Note: The enlarged view of this photo has been digitally repaired by Jay Cawley of Harleigh. Thank you, Jay.

---
Featured photos - St. John's Nepomucene Roman Catholic Church Band - posted October 28, 2011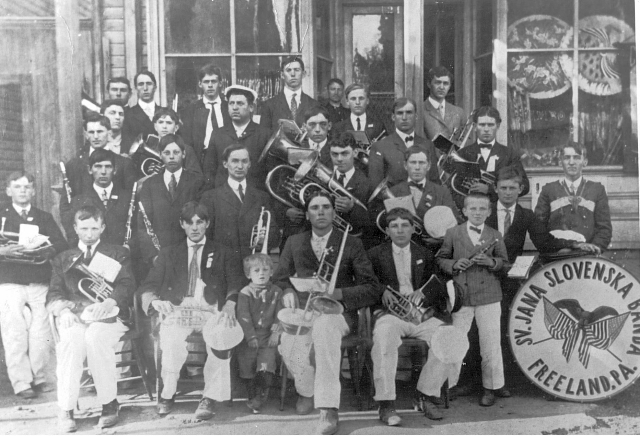 This great photo comes to us from Pat Boren, along with this note:

"Love your website about Freeland. My mom grew up there in the 30s and 40s. Her father was Mike Herkalo, who was a butcher with a grocery store in the front of their home at 904 Centre Street. Mike was born in Freeland in 1884, first generation born here (his parents were from Kucin, Slovakia and they spelled the name Hirkala). Here are a couple of photos that I hope you share on your website. In the band photo, Mike is holding his white hat and tuba , 2nd row back, on the right. I believe his brother is behind him to the right on the end, horn visible. Guessing the time frame is 1910-ish?"


Can anyone identify anybody else in this photo? Please let me know and I'll add the information here. Also, if you have any similar photos from the Freeland area, of if you know anyone who does, I hope you'll consider sharing them.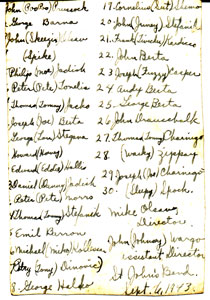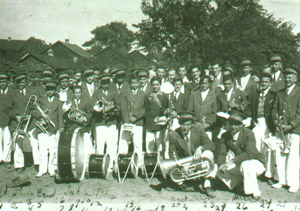 Meanwhile, here's a related photo from my own family collection. My dad's mother was a Berta, and so I'm related to several people in this photo of a later version of St. John's Band, dated September 6, 1943. This is one of those wonderful situations where someone wrote the names of the people in the photo on the back of the photo. Maybe you know some of these people! Names include Berta, Prussock, Barna, Jadish, Jacko, Stegana, Hollis, Morro, Stefanik, Barron, Dinovic, Halko, Shemo, Kardisco, Casper, Drauschalk, Charnigo, Zippay, Spock, Wargo, a few others I wasn't sure of from the handwriting. A number of these guys had nicknames that are also written on the back of the photo. I remember that a lot of my dad's friends from his youth in Upper Lehigh had such nicknames.




---
Summer Fun - Mystery photos from Ed Merrick - posted August 20, 2011
** NEW COMMENT FROM ED, 8-20-16:
When you wrote about the Gabuzda dairy farm, you mentioned Fairchild's swimming pool and recreation area across the road. Could that be the site of the photos taken of my aunt, Mary Merick?


Recently Ed Merrick sent me some photos and a note detailing what he knows about them. He's looking for more information on who the people are and where the photos were taken. In his words, "If you decide to run any of them, perhaps your fans would be able to shed light on them." Well, by "your fans" he means fans of this website, so if any of you looking at this page now can offer information or even guesses for Ed, would you please email me and let me know? Perhaps you are of an age to be able to remember some of these people. Or if not, perhaps you could show them to someone you know who might remember them. Please help if you can! Here's the message he sent with the photos, and I've embedded the photos next to the part that talks about each one.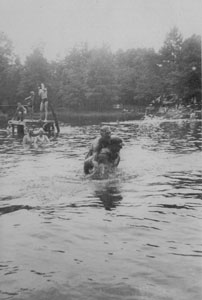 Hi, Chuck. My sister sent me these mystery pictures, which she got from my Aunt Mary Merick (she spelled her name with one 'r') before she died about 8 years ago. I would guess that they are photos of an outing of a group from St. Casimir's. The site is a puzzle. It can't be Woodside because the only water there was in strippings, which were deep. On the platform in Picnic01 are the words "deep water" but it can't be that deep because most of the adults are only chest deep. Note the bench in the background.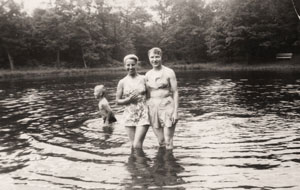 I think Picnic02 was taken from behind the platform, and that bench in the background is probably the same one because of the configuration of the tree canopies. My Aunt Mary is on the right. The woman with her could be Jenny Drobick, a good friend who lived directly across Chestnut Street from my aunt and who attended St. Casimir's.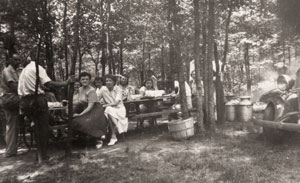 In Picnic03, my aunt is on the extreme right, with her face partly hidden by the tree. Note the age of the car. Unfortunately the license plate is not visible.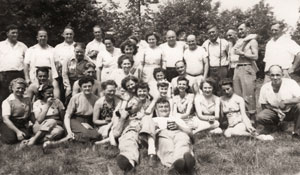 In Picnic04, that's Mike Ostroff second from the left in the second row, while my aunt is third from the right in the first row. Obviously, beer is allowed at this locale, which would rule out Eurana Park. Did Hazle Park allow people to bring in beer?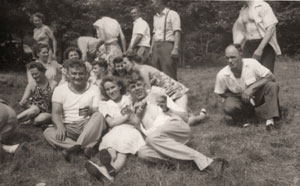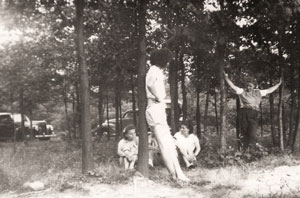 That's my aunt on the extreme left in Picnic05. I included Picnic06 to show the vintage of the cars. I would guess that these photos were taken in the 1930s.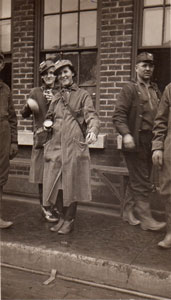 [The photo marked] Mary01 is a total mystery. Written in pencil on the back in loopy longhand is what looks like "Miss Mary Merick." Neither of the women looks like my aunt. I have no idea what the outfits represent and what is in the right hand of the woman in the front (a flashlight?). The men could be miners, but they lack the ubiquitous lunch pail and aren't black with coal dust (though they could just be on the way to a shift). The card-like things on their hats baffle me. My sister speculates that this could have been taken at the Freeland Shirt Co. factory. (Notice the guy inside the window.)

If you decide to run any of them, perhaps your fans would be able to shed light on them. -- Ed


---
Featured photos - Centre Street in March, 1966 - posted March 2011

These photos come from Ed Merrick, who snapped them in the mid-'60s. I was halfway through high school at the time. Thank you, Ed, for sharing these memories.


---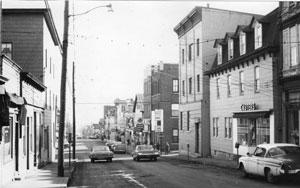 Looking south from above Front Street, there's Caster's Floral Shop on the right, next to Fairchild's news shop. That Fairchild's business was in the building that was built in 1893 and which contained Freeland's post office at one time. On the other side of Caster's, Dr. Drogowski had his office in that corner building. Seventy years earlier it was the site of Amandus Oswald's General Store. Below Front Street the People's Bank, Genetti's and Citizens Bank signs are visible.



---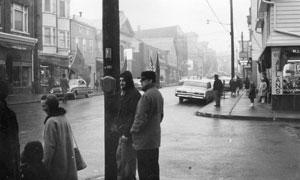 Here's what I had written: Here we're standing in front of the Refowich Theatre, watching the St. Patrick's Day parade on March 13, 1966. To the right across Main St. is Allan's Show Store, with Vercusky's Drug Store and Bellezza's Shoe Store signs visible. Seitzinger's Drug Store is across Centre St. The same buildings shown in the previous photo are seen here from the other direction. I guess that's a fire alarm box on the telephone pole?


** Here's a correction from Charlie Gallagher, sent 3-28-12:
The box pictured on the pole was not a fire alarm box. It was actually a phone box that the Freeland Police used up to about 1973 or 74. When you called the Freeland Police (636.0111) the phone would ring in the borough building and on the pole in front of the Refowich. It was a locking box with the Police having the key.

You may recall that the Freeland PD used to park on Center in front of the Ref and watch the town before the advent of radio communications with the Luzerne County Communications Center.

I believe that is Rich Petchol and Nick Goida standing next to it in the photograph.


---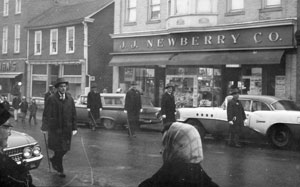 Turning in the other direction we see the J. J. Newberry Co. (now VideoMania) and, to the extreme left, part of the sign for Pittman's Furniture Store. They had pretty crummy weather for the parade that year, but that didn't dampen the spirits of the marchers or the hardy souls who came out to see them. Parades were always a special thing in Freeland, a way for the town to turn out and celebrate the community.




---
Featured photos - SNOW!!!!!!!!!!!!! - posted Feb. 8, 2011

Two of these photos come courtesy of John Zubach, and the one marked "Blizzard March 1st 1914" comes from Carol Jones. All show a very snowy Freeland in the time when, although some people had cars, there were still horse-drawn carriages in use. (You can find more information about horse-drawn carriages in Freeland on the Transportation page.)


---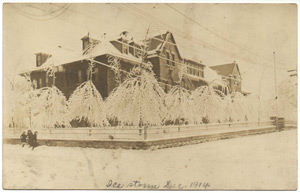 This photo seems very evocative of the wonderful silence that comes after a winter storm. These young kids look like they're having so much fun out there! Everything has been transformed by the snow and ice. The DCM school is decorated with snow and icycles. Even the trees look a bit like ballerinas. This storm came at the tail end of a heavy year for winter storms in Freeland!



---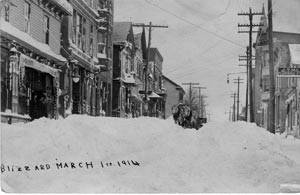 So here we are on upper Centre Street, just down the block from the Borough Building (which still had its spire at this time). Look at the snow on the street! Those horses can't have had an easy time of it. Nor did the human pedestrians, actually. And this was March, almost springtime. Those guys standing in the doorway don't seem to me as though they're quite bundled up enough for this weather. Many of these buildings are still with us today, by the way.



---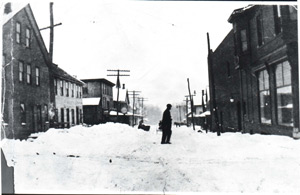 NEWS! Ed Merrick has identified what we're looking at in this photo! He writes: "I think the photo that puzzles you is of Main Street looking east from Centre. The Ref is at the right, with its distinctive second-story bay windows. That is the old St. Luke's on the left. My grandparents' house is the squarish, four-story on the left, and it looks as though the clock might be in front of it. Just beyond it is the building that preceded the Post Office."



Thank you, Ed. As I wrote back to him, now that I look at pictures of the Refowich, it's obvious that that's the building in the right front of the photo (there's a photo of the Refowich on the Entertainment page). Looking at other aspects of this photo, isn't it cool to see that horse in the background? That looks like a sleigh on the left side of the street, maybe, and there's a carriage or car just beyond the man who's crossing the street. Don't you love how crooked the telephone poles used to be? I wonder what business that clock on the left was connected to?



** Note: The enlarged view of this photo has been digitally repaired by Jay Cawley of Harleigh. Thank you, Jay.




---
Oliver Miller in his store - posted May 7, 2010

This photo comes to us courtesy of Lori Vining and Nancy Paskin.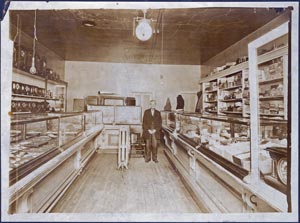 From time to time I receive photos or copies of photos reflecting Freeland area history from correspondents. I will feature one of these on this page every once in awhile, so that more people get to see them. Today's feature photo came from Lori Vining, and Nancy Paskin provided the backstory.

This is Oliver Miller standing in his jewelry and watch repair shop. Mr. Miller also repaired bicycles. In the 1890s this business was on Centre Street, and later it was moved to 711 Main Street in the area where the Post Office is today. It is listed on Centre Street in the 1895, 1897 and 1901 city directories, and at 711 Main Street in the 1921-1922 city directory, so he had his business in Freeland for nearly 3 decades. Nancy Paskin (great-granddaughter of Oliver Miller) wrote: "My father, who is now 92, remembers that the store always had patriotic buntings on the second story railings and that the family lived in the same building with rooms above and behind the store. He also said that later on when he was a young man, the building was taken down and made way for a post office. He said he worked one summer helping digging the foundation for the new post office." (You can actually see photos of our current post office foundation being dug on a page about Freeland's post offices.)


---