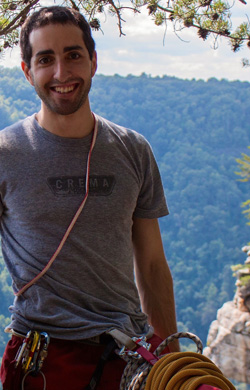 Matt Golub (golub.matthew@gmail.com)

Work hard, play hard! When I'm working, you'll find me at the local crags clipping bolts up sport routes, gripping plastic at the gym, racing the elevator up the Cathedral of Learning, or reading about safe practices in the mountains. When playing, I'm jamming in cracks, smearing up slabs, and tiptoeing across face holds at Seneca or the New River Gorge. When those rocks get too cold to climb, I find even colder climbing destinations, like frozen waterfalls in PA and NY, alpine routes further northeast, and the bigger mountains out west. I dream of climbing the granite spires of Patagonia and the big mountains of Alaska.

Climbing can help us all achieve balance in life--it keeps us in shape, sharpens our minds, and provides us with an amazing community. I hope you'll come out and experience these benefits for yourself. To facilitate, I organize day trips to local crags, weekend trips to the New and Seneca, and extended trips to locations beyond. Beginner climbers will learn to safely belay and climb on toprope. More experienced CMU Explorers will learn to safely clean anchors, rappel, belay a leader, and lead climb.