Correction:

The information on this page comes from extended family members of the Palyas: the late John Gabuzda, the late Bernice Gabuzda Clapper, Mary Cooper, and Patricia Bzdil Paul.


Years ago I had asked John Gabuzda about the relationship between the Gabuzda and Palya families. His reply can be summarized this way: George Palya was born in Slovakia (then part of the Austro-Hungarian empire) in 1872 and came to the U.S. around 1886, settling in Freeland. He married Anna Tkac (pronounced Kotch) in 1898. Anna was born 1881 in Harleigh, probably the oldest daughter of Stephen and George Gabuzda's uncle Ladislav Tkacs and Anna (Sabol) Tkacs, so she would have been Stephen and George's first cousin, and she would have been the connection that led to the Gabuzda brothers first getting into the meat business.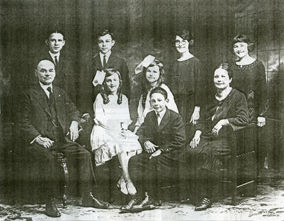 George Palya family. Photo from John Gabuzda.


George Palya opened a meat business at 452 Centre Street. According to John Gabuzda, the Palyas' seven children were born 1899-1911. As John explained, the oldest son was only six in 1910, so none of their sons were old enough to do the heavy, bloody butcher work. Thus it came about that, a few years after arriving in the U.S. from the Slovakia area of the Austro-Hungarian empire, Stephen and George Gabuzda apprenticed themselves to their cousin, George Palya, an established Freeland "butcher" (as Bernice Gabuzda Clapper pointed out, now known as meat cutters). Stephen apprenticed with him first, ca. 1908, and George followed around 1910-11. The 1910 Census shows Stephen living in the Palya household, while his brother George was still in Mahanoy City until 1910, coming to Freeland soon after.

This was a very useful apprenticeship for both brothers. There was a big slaughterhouse behind Palya's. The brothers worked for him for a few years, learning all aspects of the business, working in the store, using the wagon to deliver food, getting to know the people, some of whom later would become their customers.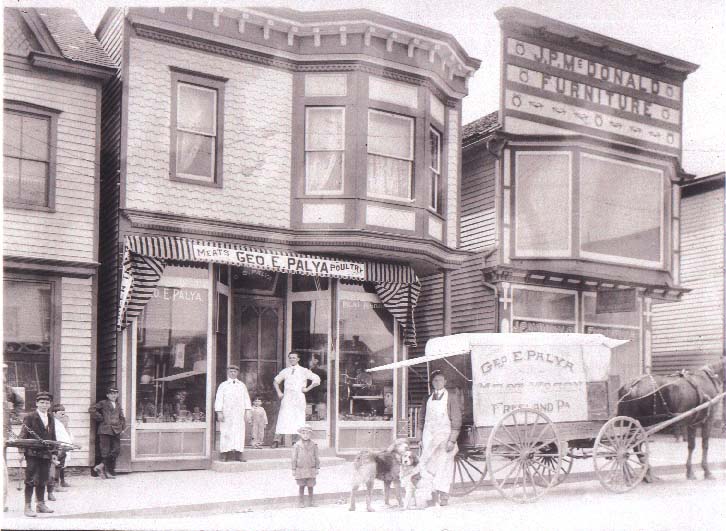 Here are the George E. Palya Meat Market and horse-drawn meat wagon, west side of 400 block of Centre St., near South St., Freeland, PA, circa 1908-1913. Owner George Palya stands on lower step, left of front door. Brothers and Palya Market apprentice butchers George J. Gabuzda (right side of door, hands on hips) and Stephen Gabuzda (guarding the meat wagon) started their own business partnership, selling meat and their own milk, only a few years years after this photo was taken. Photo from John Gabuzda.

John Gabuzda wrote: "In the left front window of the Palya Market, close-ups show bundles of asparagus standing on end, and perhaps some whole pineapples. The right front window features a meat slicer, probably used for slicing cold cuts from larger pieces of meat, with the round silver blade clearly visible. The blade was probably propelled manually using a hand crank. Also in the right window behind George Gabuzda are small barrels that may have held pickles. In the doorway of the Palya Market, just over the shoulder of Mr. Palya, is probably his wife Anna (Tkacs or "Kotch") Palya, wearing an apron. Mrs. Palya was a first cousin to George and Stephen Gabuzda. Some of the children may be unidentified Palya children, but most, if not all, are probably just kids from the neighborhood or passing by as the photo was taken."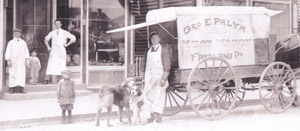 He added: "The dogs seem very interested in what's in the meat wagon, but even they seemed to know when the photo was being taken!"


My grade school friend Patricia Bzdil Paul also had a comment about the dogs! She wrote: "I was looking through your list of businesses and came across Palya's - whose daughter was my aunt married to Tom Bzdil. Anyway, my mother used an expression - "As lazy as Palya's dog," who evidently laid on the train tracks and wouldn't move for the trains."


I don't know whether the dog that Patricia's mom remembered hearing the saying about would have been one of the dogs in this photo, but that would be interesting – family dog lore being passed orally from generation to generation. Also, apparently these trains (I assume this was the trolley that went up Centre street) stopped for the dog. The pace of life was slower back then!



---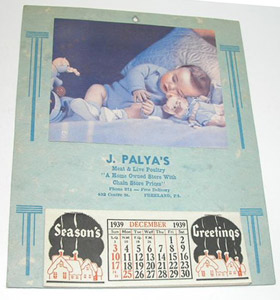 Advertising calendar, 1939.
---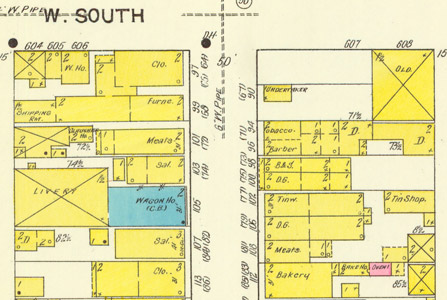 This detail at right, cropped from the 1912 Sanborn Fire Insurance map, shows the store (with the old address numbering of 101 S. Centre St.) with its slaughter house and other outbuildings behind it.








---

The store building is still there today, two buildings down from Sorrento's Pizze; it was formerly Bzdil's Florist Shop and later Tommy Bzdil's video shop. It belonged to the Bzdil family because Helen Bzdil was Helen Palya Bzdil and this had been her father's meat market all those years ago.