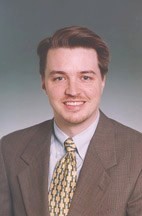 Michael D. Smith
Assistant Professor of Information Technology and Marketing
H. John Heinz III School of Public Policy and Management
4800 Forbes Ave.
Pittsburgh, PA 15213

Email: mds @cmu.edu
Voice: 412-268-5978
Fax: 801-459-4300
Office: Hamburg Hall 2105D


Research: Internet Market Efficiency, Customer Choice Behavior at Shopbots, Internet Pricing Behavior, Peer-to-Peer Network Efficiency and Design
Teaching: Electronic Commerce, Internet Marketing, Internet Policy
Biographical Information
Curriculum Vita
Refereed Journal Articles:
Book Chapters:
Smith, Michael D., Joseph Bailey, Erik Brynjolfsson. 2000. Understanding Digital Markets: Review and Assessment, Brynjolfsson and Kahin eds. Understanding the Digital Economy, MIT Press, Cambridge, MA, 99-136.

Clay, Karen, Ramayya Krishnan, Michael D. Smith. 2001. The Great Experiment: Pricing on the Internet. Lowry, Cherrington, and Watson, eds. Handbook of Electronic Commerce in Business and Society. CRC Press, New York, Forthcoming, 139-152.
Selected Working Papers:
---
95-730: Electronic Commerce (Spring 2001-02)
95-732: Electronic Commerce Marketing (Spring 2001-02)
70-488: Internet Marketing (Spring 2001-02)
45-821: Internet Marketing (Spring 2002)
---
Miscellaneous