What's on this page:
Information on Allen Sharp, founder of Sharp's Bakery
Ed Sharp on Sharp's Bakery history

On related pages:
Freeland bakeries (page in progress)
---
Allen M. Sharp (1891-1961)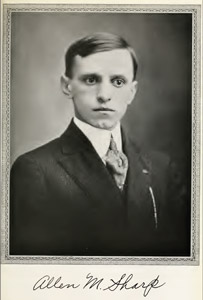 According to Harvey's and Smith's

A History of Wilkes-Barre

(source of the portrait at left), Allen Sharp was educated in three professions via schools and correspondence courses, studying teaching, cigar making and baking. He taught for two years in public schools in his native Lebanon County, then moved to Freeland in 1919 and became foreman of the Bressler cigar factory where he worked until buying Christian Scholler's bakery at 719 Front Street. He focused on modernizing bakery operations and extended his customer reach to a 15-mile radius, selling products through bakery trucks.

Later, according to his obituary, he also became a board member, vice president and president of the Citizens Bank, serving there for 28 years, 7 as president. He was also on the board of directors and board of trustees of the Freeland YMCA.

Allen Sharp's vision of how a bakery could operate changed the bakery business in Freeland.


---



Ed Sharp on Sharp's Bakery history



In 2006 I visited Allen's son Ed and asked him if he would tell me about the history of Sharp's Bakery. Here are my notes:

Ed's father, Allen Michael Sharp, bought Scholler's Bakery on Front Street in 1920. Ed's aunt had a bakery in Pittsburgh and this could have been the inspiration for his father. There was a first-class baker in Pittsburgh named Joe Ridzin; he was willing to relocate and lived with the Sharps on Front Street. (He's buried in St. Casimir's Cemetery now.) Joe made a high-class line of bakery products never seen in this area before, including puff pastry, danish pastries, Charlotte russe. Sharp's Bakery took Freeland by storm in the early 1920s.

Ed also mentioned that at that time there was a huge amount of patriotic fervor in Freeland. Veterans' organizations had drum and bugle corps, uniforms, and marched in patriotic parades throughout the 1920s.

Back to the bakery story: Sharp's had a fleet of trucks for deliveries to Freeland and surrounding patch towns. In 1932 during the depression Allen Sharp completely remodeled the building on Front Street; a prestigious bakery architect from Pittsburgh designed it. The bakery operation expanded throughout the 1930s, and by the end of the 1930s they had 4 or 5 trucks. Ed joined the organization in 1947 or 1948 and began to add more trucks. They had no truck storage space, and there was only room for 5 on Front Street. Ed bought property near the YMCA (later Frame Oil Garage, Ed says) and filled it with trucks. This may have been next to the Roth Blacksmith shop. Another blacksmith, John Broskoske, made the interior shelving for the trucks to Ed's design specifications. Ed remembered John as always having a chew of tobacco in his mouth, and he would look at the designs and say "yes, yes" and then would improve them.

Sharp's Bakery expanded to Woodside Park in 1962. Ed bought Woodside Park, a defunct recreation park, from Danny Coxe who managed Coxe properties at the time. This new bakery site had a coffee shop in it, and would catch traffic on 940 en route to the Poconos. The fleet grew to 16 trucks and deliveries expanded to Wilkes-Barre, Shickshinny, Berwick, and the valley.

Ed said that it was a fairly efficient bakery operation, but if he had had the gift of foresight he wouldn't have built the second shop. A turning point in marketing had been reached that would spell the demise of all kinds of home delivery. Rosie the Riveter found that she could make money working, and as the mines declined locally women went to work in the factories and so they were not at home when the delivery trucks came! Also, the new Interstate 80 diverted all of the 940 traffic away. Sharp's Bakery closed in 1971, after about 50 years of business.

This was a sign of the times around the country, not just in our area. Also around that time, Helm's Bakery in L.A. with some 200-300 trucks went out of business shortly before Sharp's did. They had made "Olympic Bread" for the Olympic village when the Olympics were held in L.A. Another huge bakery in lower New York state also went out of business shortly before Sharp's did.

In Freeland the trend was aggravated by the fact that women were going to work outside the home out of economic necessity, not just for war support like Rosie the Riveter.

Then Ed spoke more about his father. Allen Sharp was not a baker, but he owned and managed the bakery. As a young man he had worked for Hazle Made (I'm not sure of the spelling), a small group of wholesale bakeries owned by the Ferdinands. Allen was a young, capable man who didn't see a future for himself in his job at Hazle Made.

When he bought his bakery in Freeland he hired Joe Ridzin from Pittsburgh. Joe specialized in pastries, pies, cakes and was a foreman on the Sharp's staff. John Mucher had been at Hazle Made and came to Freeland to bake bread and rolls, and he was in charge of the night shift.

One of the helpers that Allen hired in the 1930s was Eric Schneider, who was just over from Germany, a young man who spoke no English. Allen was of Pennsylvania Dutch descent and could translate recipes for Schneider, who became a valued assistant to John Mucher, and later took over as night shift foreman when John Mucher unexpectedly died. Schneider served in this position for the remaining years that the bakery was in business.

Another valued employee, John Pashnic, came as a young man and later became day foreman after Joe Ridzin's death. Sharp's had many, many long-time employees who were very loyal to the business.

Ed said that 5-10% of the bakery's business was done at their retail stores on Front Street and Woodside. They also had a retail outlet at the Leader Store's luncheonette and bakery store in Hazleton; Sharp's had a clerk there.

They did a good business in decorated cakes for all occasions. The demand for Sharp's baked goods was generally stable over the entire 50 years of the business. On Front Street, they made danish pastries that came out fresh to the store around 3:30-4:00 p.m., and the store would be packed with people on their way home from work, e.g., from Dewey's factory, and the dress factory. This was before the Woodside site, in the late 1940s and early 1950s.

The Front Street bakery had an automatic pie-making machine. By the time they expanded to the Woodside site, bakery businesses in general were becoming more specialized and compartmentalized, and the old-style variety bakeries were disappearing. The bakery at Front Street wasn't automated at the level of Spaulding's Bakery, which specialized in bread and rolls.

Back in the 1920s, nobody in town could compete with Joe Ridzin's work. Sharp's also prided themselves on using unbleached flour; they did not produce gummy white bread.

Sharp's also had a wholesale business for the small grocery stores, like the Corner Store, Herkalo's, Spock's, and so on, but this was a small percentage of their overall business.

In retrospect, a number of declining marketing factors contributed to the demise of the bakery. The peak of Sharp's business lasted about 10 years, and they had about 45 employees at their peak and still had close to that many working there at the time the bakery closed for good.

- : -

Ed also did a huge amount of work to bring in industries to Freeland. He died in early 2020 and should be remembered for his many years of service to his home town.