Big Joe Ranieri, his building projects in Freeland, and the stone quarry



A few years ago I was talking with my old high school classmate Harold Refowich's wife Antoinette, whose great-grandfather Joseph Ranieri built new stone churches for both St. John's Nepomucene Roman Catholic and St. Luke's Lutheran parishes. Not only did he and some of his compatriots from Italy build those churches, but they actually first quarried the stones themselves locally.

Antoinette has kindly shared information about Joe Ranieri and his family, as well as two photos. Giuseppe (Big Joe) and Elisabetha (Scarfone) Ranieri came to the U.S. from the town of Borgia, in the Calabria region of Italy. They had 8 children: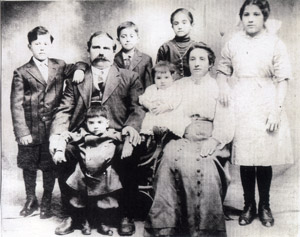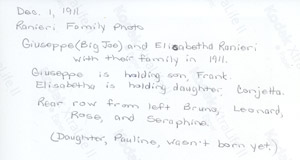 - Seraphine (Procopio)
- Bruno
- Rose (Poleri)
- Leonard
- Conjetta (died in infancy)
- Frank
- Conjetta (Senape)
- Pauline (Franklin)
When this wonderful family photo at right was made, Pauline wasn't born yet.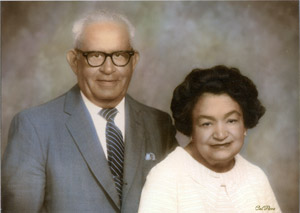 In 1914 Big Joe Ranieri encouraged his stonemason friend in Italy, Raffaele Pulera (Poleri), along with Raffaele's son Vito, to come to Freeland to help build St. John's Nepomucene Church. Another paesano who came to Freeland from the same region was Salvatore (Jimmy) Procopio. Both Vito Poleri and Jimmy Procopio married daughters of Big Joe and Elisabetha, Vito marrying Rose (at left) and Jimmy marrying Seraphine. They worked with their father-in-law at the quarry and on his building projects. It was Joe Ranieri who founded the quarry from which the stones came that were used to build St. John's, St. Luke's, and also the grocery store on Main and Ridge streets that he ran with his wife. The Procopios had a bar just a little way down the block from the Ranieri's grocery store on Ridge Street.

Charlie Reczkowski had told me several years ago about Mr. Ranieri building the churches, adding that Mr. Ranieri previously owned the site of the Corner Store and had himself built the foundation and store using that same quarried stone. There had been a grocery store on that site at Main and Ridge streets as early as 1895 (see 1895 map detail below), but in the 1920s Mr. Ranieri built a new building there that still stands today. He and his wife Elisabetha ran a grocery store there, later taken over by Billy Nitka (one of several stores he had over the years), and then later taken over in turn by the Reczkowskis and only closed fairly recently. What a wonderful long run that site had as a grocery store of one kind or another, for more than a century.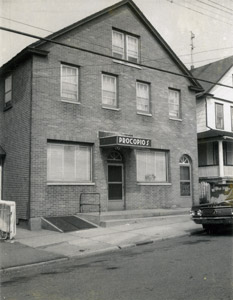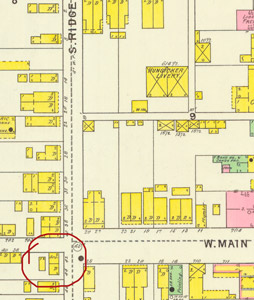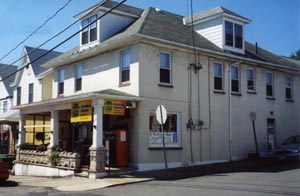 Antoinette offered to ask her uncle Bill where the quarry was, and he told her that it was "out by the Wooden Nickel." He says that the quarry founded by Joe Ranieri was on Green Street (south of South Street), second from the last property on Green Street, next to where Antoinette's grandfather Vito Poleri had his shop. The property next to that belonged to the Citro family.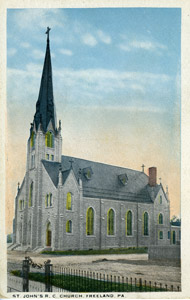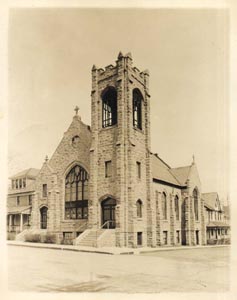 On another side note, if you're in Freeland, go and take a fresh look at St. John's Nepomucene (while it's still there) and St. Luke's churches. The stones and the stonework are really beautiful. Think about these strong and wonderfully skilled men cutting the stones out of the ground, shaping them, fitting them together to create these gorgeous buildings. What talent, what skill, what incredible ability they applied to this extraordinary undertaking. I have great admiration for these and other stonemasons who helped to build Freeland. The original St. Luke's was made of wood and built in 1876-1877; the cornerstone for the new stone church was laid in 1924. The original St. John's Roman Catholic church was also a wooden building on the corner of Ridge and Luzerne, cornerstone laid in 1892, dedicated in 1893, and the new cornerstone is dated 1915. Both of these early wooden churches, one German and the other Slovak, were replaced with larger, more solid and more complex stone buildings, built by these Italian stonemasons. St. John's new church was built a few blocks away from the old one. (The photo of St. Luke's came from John Zubach.)

Just to share a few more connections that surfaced through the emails, Bob Zimmerman noted:

Mrs. Procopio, of the bar on Ridge St. a few doors south from the Corner Store, was a Ranieri. Her daughter, Elizabeth Procopio, was my Spanish teacher in high school. … I remember her saying that her grandfather built the Lutheran Church with stone quarried somewhere near that site at the bottom end of Green St. which we always called St. Ann's. One of Betty's brothers was called 'Deitz.' It was his job to put out lanterns at construction sites where his grandfather worked. The manufacturer of the lamps was "Dietz". It has been years since I have seen Betty. The last time I visited her was several years ago at her home near Danville. We put together an art show at Eckley featuring local artists. I borrowed some of Vic Poleri's water colors from Betty and from her niece

.

[I'll add from my conversation with Antoinette Refowich that apparently a number of Vic Poleri's paintings of Freeland churches are now at Our Lady of the Immaculate Conception church.]

Charlie Gallagher wrote:

I knew Vito Poleri and his son Ralph well. They had Poleri Construction on Ridge Street next to the Clover Bar. I did a lot of drafting work for Ralph when I was at Penn State and just afterwards. I did the preliminary drawings for the Refowich when AMBART Realty bought it in the 70's. AMBART stood for Ann Maryann Bernie Amy Rosemary Tara. AMBART was owned by Ralph Poleri, Edward Herbener (by the way, my best man) and James Senape.

A

nn was Ralph's wife,

M

aryann was Eddie's,

B

ernie was Jimmy's.

A

my was Eddie's daughter,

R

osemary was Ralph's and

T

ara was Jimmy's. They were going to convert the Refowich to apartments and offices. You may recall that Jimmy Senape's offices were there for a short time when he first set up his practice after leaving Martin O'Donnell. Then they sold it to Freeland Associates and it became the Freeland Senior Apartments. Many of the building trades were Italian in the Freeland Area: Poleri, DeFeo, Deitos, Pignatari, Marchetti (plumber and there was also a mason). I also remember Bruno Ranieri, but all I can recall is that he was retired. But for some reason, and I don't know why, I seem to recall an office on Main Street between Centre and Ridge Streets with Ranieri on the door. (Jack Della Croce and I would go up there to see his Grandmother Della Croce when we were kids.) (By the way, speaking of the Della Croces, where the Della Croce house is at 436 Washington Street was the site of the former Washington Street School.)