What's on this page:
Partial list of local bars, some with commentary
Listings from city directories in 1900-1901, 1921-1922, 1928-1929, and 1940
On related pages:
---



PARTIAL LIST OF LOCAL BARS AND BOTTLERS, SOME WITH COMMENTARY





Please send additiona and corrections!




[Thanks to Aileen Mattavi Evans, Maggie Farina, B. & J. Kulig, Ed Cheppa Sr., Eddie Barna, Sam Drozic, Charlie Rudewick, Ed Merrick, Jolene Lavinka Szymanski, Lorraine Potochney, Jack Polachak, Nancy Penn, Carolyn Moering, Pat Ferko Miller, Tom Lavinka, Jerry and Betty Kulig, Bill Feissner, Maggie Farina, Nicole Drozic Ashmore, Peter J. Curry, Mike Bobby, Joe Benish, Frank Balon, Jolene Lavinka Szymanski for additions and corrections.]

Al's Blue Pines - Freeland/White Haven Highway (now Jimbo's Party Beverages?)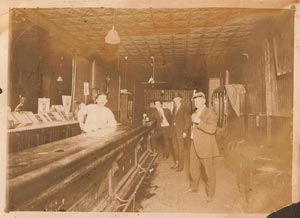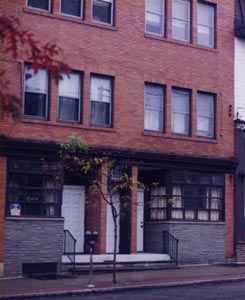 Balon's Bar & Grill - 536-538-540 Centre St. (Frank Balon, proprietor, and later Stanley Balon until closing in 1999) (From Frank Balon in 2005, relaying information from his father Stanley: Dad thinks that my grandfather Frank Balon, of Polish descent, began the business around 1910, taking over a bar that was already in existence. He had arrived in the U.S. around 1892-1896. In the early years of the bar, mostly drinks were served, but Frank Balon was also known for making large pots of soup. He ran a boarding house/rooming house upstairs above the bar. I think miners stayed there. There are stories that I recall of Dad's older sisters having to wash miners' clothes, and leaving a mouse in miner's shoe. In fact, we still had the rooming house through my years, at least until around 1980. I recall as many as 5 roomers at a time. Dad was born in 1919 and took over running the bar when he returned from WW2, but Frank was still in the picture until his death in the mid-1950's. I helped out with the bar for a bit in the early 1980s, tending bar and doing short-order cooking - hamburgs, cheeseburgs, steak sandwiches. But Pop made the BEST burgers in town. Our family has always lived in the same building where the bar is. In the period when Pop ran the bar there were also other businesses renting space in the building. There was a butcher shop next door. In the "side-room" off the bar, in my time, was a room for parties or meetings. During the 70's, we partitioned half of this side room off: we kept 1/2 for meetings and the front half, which opened out to Centre St. (actual address 540), was a beauty shop. Around mid 80's we rented this out to an Insurance Adjuster, Carl Pecora. Mr. Pecora's nephew, Larry Yori, still runs this buisness from there. He probably uses the 536 address however.) (From Frank Balon, April 2010: this is a picture inside Balon's Bar from sometime in the 1920's. Behind the bar is Grandfather Frank Balon. The tin ceiling and cedar bar are still there today.)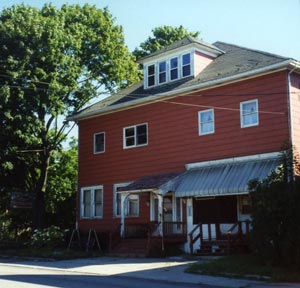 Belekanich's - Ridge St., between South & Luzerne Streets (former schoolhouse) (From Ed Merrick: "Mrs. Belekanich was proprietor, and the bartender was her son, Francis Hill. She made the most wonderful giant meatballs and French fries, and you could order as many meatballs as you thought you could handle. The only beer on tap was Ortlieb's, brewed in Philadelphia. My friends and I would go in, crowd into one of the wonderful private little rooms (it once indeed was a school), and feast and drink to our hearts' content. The Belekaniches lived in the lovely old home with the wraparound porch at Ridge and Luzerne.")

Bessie Boyle's - 705 South St.

Big Al's - across from Balas's on South Street (Al Petrusky, proprietor)

Big Bill's Bar - Front St., between Centre & Washington Streets, next to Shane's Sporting Goods

BZ's Bar - Centre St. below South St. (Barbara Znachko, proprietor)

Carsia's Bar - Centre St. below South St. (From Bill Feissner: Carcia's Bar was sold to Ed Barna and became Eddies Bar. He bought the Eagles next door and made a large dining room out of it. He then retired and sold it to Jackie and Leanne Kochie, which is now The Other Side.)

Chatterbox - Freeland-White Haven highway

Cheppa's Cafe - 418 Centre St. (George Cheppa, proprietor)

Cherone's Bar & Grille - 637 Centre St (1952 phone book)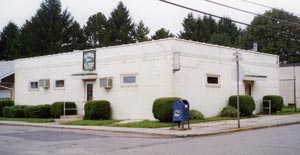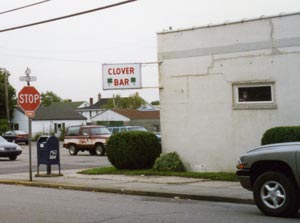 Clover Bar - 400 Ridge St. (Jack Amentler, proprietor, and his wife, Annelle, cook.) (From Ed Merick: "If I could have back all the hours I spent there, I would be a young man again, but I wouldn't want them, they were so wonderful. The place was a refuge for me and my friends during those long, dismal winters. It was where the guy and girls from MMI, Freeland High, Foster, and St. Ann's got together and had fun and feasted. Nellie was a great cook, and every night we spent there was capped with a feast: spaghetti and homemade meatballs for 75 cents, steak for $1.50, and lobster tail for $1.75.") (From Chuck Tancin: I've been told by someone else that in the 1930s people used to bring their cows to graze in the lot that the Clover Bar was later built on - grazing on clover, maybe?)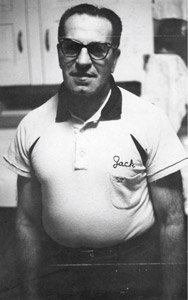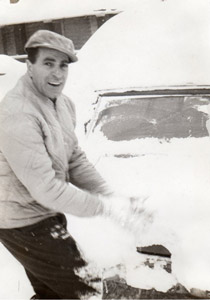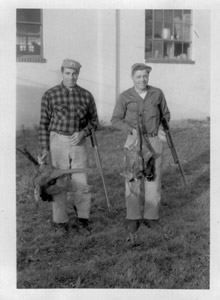 From Ed Merrick: "Here are photos of Jack Amentler if you would like to include any in the Bar listings and another of Jack with Bill Feissner, who waited tables at the Clover Bar."





Chi Chi DeFalco's - 722 South St. (Frank DeFalco, proprietor and operator) (age 43 in 1940 Census)

Dovan's Den - Centre St., between South & Luzerne Streets

Drozic's - Ridge & South Streets (Sam Drozic, Sr. 1965-1972 and then Sam Drozic, Jr., 1973-1978, proprietors) (From Sam Drozic, Jr.: Before me, my parents ran it from 1965. They bought it from Tony and Lucille Prett who bought it in 1962. The previous owner called by his nickname "Tuggles". His last name was Broskoski. No one knows when Tuggles bought it from the original owner, Antonio Guzzi, who built it. He imported Italian marble for the floor and had a big safe with his name on it in gold. I'd say Guzzi probably started it around the turn of the century and ran it until Tuggles bought it, probably after the war.)

Eagle's Club - 423 Centre St.

Eddie's Bar and Restaurant - 421 Centre St. (1975-1989) (Eddie Barna, proprietor) (From Bill Feissner: Carcia's Bar was sold to Ed Barna and became Eddie's Bar. He bought the Eagles next door and made a large dining room out of it. He then retired and sold it to Jackie and Leanne Kochie, which is now The Other Side.) (From Eddie Barna: Gauz's Furniture Store at 423 Centre Street was in operation through the mid-1940s. The Eagles bought the building in the late 1940's and remodeled it for their Club, which they used until 1984. I bought it and used the first floor for my main dining room and the second floor was used for private parties. It is currently the Other Side Bar & Restaurant.)

E.J.'s - Centre & Luzerne Streets (formerly Kostick's)

Fearnots Pub - Green St. (From Bill Feissner: the firehouse bar on Green St. was called The Fearnots Pub. It had a regular bar license that was later sold to the Wooden Nickle.)

Bubsy Ferdinand's - 977 Walnut St., at Vine and Walnut (From Maggie Farina: I think at one time it was a boarding house/hotel/dance hall I'm guessing around sometime in the early 30's or even earlier.)

Fox Bottling Works - 25 Park St. in 1928 (John C. Fox, proprietor) soda factory ; 353 Park St. in 1940 (age 59 in 1940 Census) (From Carolyn Moering: John C. Fox, brother of Julius Fox, the baker, owned Fox Bottling Works , Park St, Freeland. They bottled birch beer soda.)

Freeland Brewing Company - Fern St., between South & Main Streets (closed 1933)

Gallagher's - Ridge & Carbon Streets (From Pete Curry: My ancesters, the Gallaghers, operated a saloon in Freeland at Ridge & Carbon from approximately 1895 until approximately 1920, at which time they moved to Newark, NJ. My father Edward J Curry spent many summers as a child with Gallagher relatives in Sandy Valley, and often went to Freeland by buggy to visit the "Freeland Gallaghers.")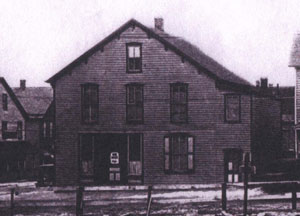 Genie Boyle's - Washington & Main Streets (From Aileen Mattavi Evans: Gene Boyle was my uncle and on St. Paddy's day he would do the Irish Jig on the bar. Big shindigs there on St. Paddy's day.) This photo comes from Bill Smith, cropped from a photo on the Post Offices page showing preparation of ground for building the current post office in the mid-1930s.

Grega's - 525 Fern St. (George Grega, proprietor) (1940 Census)

Hudak - 406 Washington St. (John Hudak) bottler, beverage company (age 35 in 1940 Census)

Jabbo's Bar - Centre St., between Luzerne & Carbon Streets, owned by Jabbo Valkusky (From Bill Feissner: Marion's Restaurant became Jabbo's Bar, then was sold by Jabbo to an Indian named Mushie, and became the Rustic Lounge.) (From Mike Bobby: Jabbo Valkusky's bar was located on Centre Street near Carbon. My friend's father was a bartender in the early 70s. It was known as The Rustic Lounge in the late 80s and early 90s and run by an Indian gentleman from Bensalem, Pa. known as "Mushie" until his untimely death at the age of 53 in 1992. The building remained vacant and was gutted by a fire in Sept. 2000.)

Andro Kasarda's - 355 Centre St. (Andro Kasarda, proprietor) - See beginnings of a new Saloons page for more info

John Kasarda's - 330 Centre St. (John Kasarda, proprietor) merchant, restaurant (age 49 in 1940 Census)

Kostick's - Centre & Luzerne Streets (later became E.J.'s in the 1980s) (John and Betty (Kushmider) Kostick, proprietors)

Trudy Kozel's - 527 Centre St.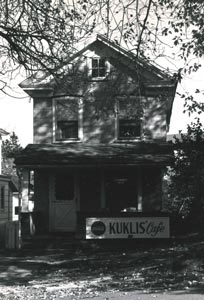 Kuklis's - 1033 Birkbeck St. (From Billy Kuklis: Here's the history about my dad's bar. My Grandfather (Anthony) and Grandmother (Catherine) Kuklis started the bar on Birkbeck Street sometime in the early 1930's. My Grandfather died in 1935 and my Grandmother ran the bar with the help of my father until 1965 when my Grandmother died; then my father (William) and my Mother (Lucy) operated the bar until 1987 when my dad died and the bar was then closed for good. The bar was a small friendly neighborhood gathering place where everyone knew everyone and they got together to chat about what was going on around town. It had two rooms, the first room is where the bar was located and it had eight bar stools, a large card table with chairs and two small card tables with chairs. The second room had a dining room table with chairs and two small card tables with chairs. Also, the Kuklis Bar was the first bar in Freeland to have a Color TV. My Uncle John worked for RCA in New Jersey in the late 1950's and purchased one for the bar in 1958 or 1959. We also had a large antenna on our roof to get the New York and Philadelphia channels years before cable.)


Letchak's - 420 Centre St. (George Letchak, proprietor)

Masley's - 457 Hemlock St. (Mike Masley, proprietor) (From Mary Ann Rosetta Schaeffer: My Uncles' store was named, I think "Masley's" store and the entrance was on South St. It was part of their home. The bar was on the other side of the house in the living room area and the pool hall was in the house across the yard and the back was on the alley road. The home had a stone wall facing South St. I believe it was 3 houses within one area, and all those places are still there)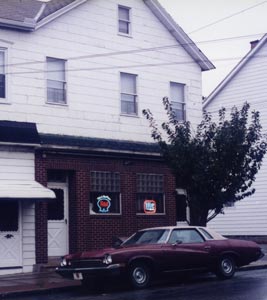 Jakie Mattis's - 360 Centre St. (John Mattis, proprietor) (age 42 in 1940 Census) (From Ed Merrick: Leona was Jakie's wife and had her shop above and behind the barroom. She also did the cooking for the bar. On many a Saturday night we sent across the street for her delicious turkey platters, her Saturday night special. When I was a kid, I remember the miners getting off the bus in the morning and heading over to Jakie's for a shot and a beer to cut the coal dust. Breakfast of champions it was not, but the "breakfast" of hard-working men risking their lives and health daily to support their families.)

Mitchell's - Rte. 940? (From Joe Benish: My father was also a Joseph Benish, who was born in a "company house" in Milnesville, outside Hazleton and grew up in Freeland. In fact, he often bragged that he was for years the usher at one of the Freeland Theaters (not sure which one) until he went into the Army. His aunt and uncle Michael Mitchell once owned a great old tavern in the woods, adjacent to an old dance hall on the outskirts of town. I remember going there as a child - the entire tavern was lined in beautiful knotty pine (that may have even been its name - or it was known simply as "Mitchell's") and they lived in a small home adjacent. I remember the U-shaped driveway that led into the woods from the main road (Rte. 940?) to their home and bar, and the old dance hall being several hundred yards away in the woods. We used to play there as children. In 1996 I paid a brief visit to Freeland and was told the site where the bar and dance hall were is now a lumberyard.)

Molly Mulhearn's - Front St., between Centre & Washington Streets

Muskevich's - Ridge St. below Luzerne St.

Nowak's - 801 Schwabe St. (Stanley Nowak, proprietor) restaurant (age 41 in 1940 Census)

The Other Side - Centre St. (had once been Carsia's Bar) (From Bill Feissner: Carcia's Bar was sold to Ed Barna and became Eddies Bar. He bought the Eagles next door and made a large dining room out of it. He then retired and sold it to Jackie and Leanne Kochie, which is now The Other Side.)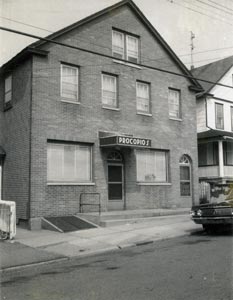 Pasternak's - Centre St., between Luzerne & South Streets

Potochney's bottling works - 20 N. Ridge St. (Michael Potochney, proprietor, 1890s, still in business in 1901; Alexander Potochney a business partner?)

Procopio's - 520 Ridge St. (Salvatore Procopio, proprietor) restaurant (1940 Census) (photo at right from John Zubach)

Ravina's - 413 Centre St. (Joseph Ravina, proprietor and waiter) restaurant (age 44 in 1940 Census)

Ravina's Cafe - 449 Ridge St. (until the mid-1960s)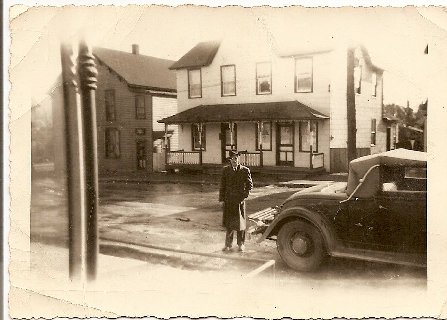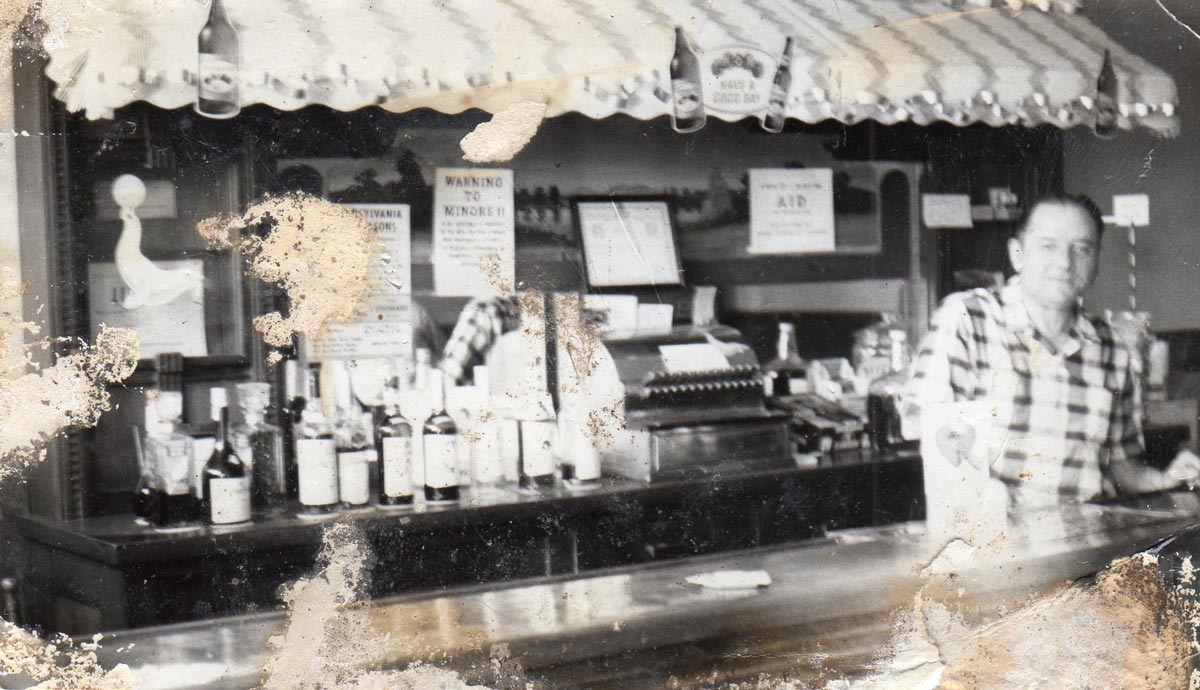 Remak's Bar - 709 Main St. (Michael Remak, proprietor - see photo at left, provided by Nancy Penn) (From Ed Merrick: The view in this photo is from the inside of Remak's, through one of two bay windows, which flanked the front door. The building to the left is, or would become, Gene Boyle's Cafe, on the corner of Main at Washington Street. The house to the right had been converted into a pharmacy when last I visited Freeland, and the upstairs had been converted into an apartment, which my aunt Irene (Remak) Corazza rented until her death in 2002.
The bay windows housed window seats, which could be closed off with folding doors. The bar itself was of dark, carved wood, and the ceiling was a classic tin tile pattern. Before TVs became widespread, my grandmother would allow the patrons to crowd into the living room, just beyond the bar, to watched the heavyweight fights of the 1940s, such as the Joe Louis and Billy Conn battles, but, as soon as the fights were over, they had to clear out and go back to their Stegmaier. Judging from the car on the street, I would say the photo dates to the 1930s. ) (And again from Ed Merrick: This photo shows my my uncle, John Remak, in March 1966 behind the bar of his cafe on Main Street.)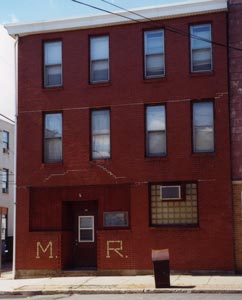 Resuta's & Machella's - 302 Centre St. (John Machella, proprietor) restaurant (age 41 in 1940 Census) (From Charlie Rudewick: It had the letter M on one side of the door and an R on the other. My Dad always said it used to be the "Miner's Restaurant" ...) (CT: It's Miner's Restaurant in the 1952 phone book.)

Rocco's - 462 Centre St. (Rocco Amentler, proprietor) (From Chuck Tancin: I remember Halloweening in here with a friend. We sang Sue Thompson's "Sad Movies" and several people gave us coins, likely to keep us from singing the whole thing!) ; earlier, 457 Ridge Street (Rocco Amentler, proprietor), merchant, restaurant (age 28 in 1940 Census)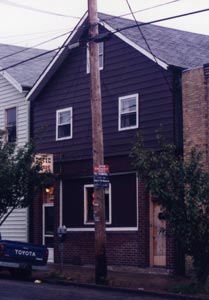 The Rustic Lounge

- Centre St., between Luzerne & Carbon Streets, formerly owned by Jabo Valkusky (From Bill Feissner: Marion's Restaurant became Jabo's Bar, then was sold by Jabo to an Indian named Mushie, and became the Rustic Lounge.) (From Mike Bobby: Jabbo Valkusky's bar was located on Centre Street near Carbon. My friend's father was a bartender in the early 70s. It was known as The Rustic Lounge in the late 80s and early 90s and run by an Indian gentleman from Bensalem, Pa. known as "Mushie" until his untimely death at the age of 53 in 1992. The building remained vacant and was gutted by a fire in Sept. 2000.)

S & S Bottling Works - rear 412 Washington (1940 city directory)

Slegeski's - 713 South St. (Ignatz Slegeski, proprietor and waiter) restaurant (age 48 in 1940 Census) (From Ed Merrick: Iggy Slegeski was coach at MMI when I was a student there.)

Surf Club - Ridge St. (Louie Cherone, proprietor)

Tip-Top Bar - corner of School & Hemlock Streets

Tony Nocchi's - Schwabe & Ridge Streets

Tony Nowak's - Birkbeck St.

Tuggles' Bar - Ridge & South Streets (Tuggles Broskoski, proprietor) (From Bill Feissner: Tuggles Bar at the corner of Ridge and South became Drozik's Bar, and is now an apartment.)

Turri's Cafe - 229 Ridge St. (Angelo Turri, proprietor) cafe (age 39 in 1940 Census) (also listed in '64 Minamek)

Zikes - 1131 Walnut St. (Julius Zike, proprietor) tavern keeper (age 47 in 1940 Census) (From Jolene Lavinka Szymanski: When my grandparents lived on Walnut Street, my grandfather would go to a local bar on down the street. The name was Zikes-the spelling I am not sure of. I remember the place well. It was connected to his home.)




---



1901



SALOONS
Adamchick, John, saloon, Ridge
Bereznak, J., saloon, Ridge and South
Boyle, Johnny, saloon, 166 Centre
Boyle, Robert, Jr., saloon, 61 Walnut
Boyle, William J., saloon, 143 Centre
Burke, P., saloon, Walnut
Caspar, L., saloon, Ridge
Clancy, Michael, saloon, Centre
DeFoy, Mrs., saloon, Washington
DePierro Bros., saloon, 204 Centre
Doborgzinski, Jos., saloon, 166 Washington
Drasher, Steve, saloon, 20 Centre
Gallagher, William, saloon, Ridge
Goeppert, A., saloon, 11 Walnut
Gross, Samuel, saloon, Main
Hudaky, Emil, saloon, Centre Hudock, John, saloon, 152 Centre
Hudock, Andro, saloon, 12 Centre
Jenkins, William, saloon, 121 Centre
Kasardo, Andrew, saloon, cor. Luzerne and Centre
Lazonik, Harry, saloon, Ridge [I think this might be a typo for Lazorik]
Letshock, George, saloon, Centre
Llewellyn, Tom., saloon, 31 Centre
Longo, Henry, saloon, Centre
Magagna, Peter, hotel and saloon, cor. Centre and South
Maloy, James J., restaurant and saloon, 53 Centre
Modry, George, saloon, 163 Washington
Murphy, Edward, saloon, cor. Centre and Main
O'Boyle, Condy, saloon, Centre
Old Reliable House, saloon, Mrs. Ferry, proprietess, cor. South and Washington
Palko, Andrew, saloon, Centre
Park View House, hotel and saloon, Front
Pasternak, Mike, saloon, South
Rugens, John, saloon and restaurant, 74 Centre
Sachs, Adam, saloon, 5 Front
Shambora, Peter, saloon and restaurant, 162 Centre
Shigo, George, saloon, 132 Centre
Stahl, Mrs. John, saloon, Centre
Teselesky, George, saloon, Centre
Vargo, M., saloon, 130 Washington
Welsh, Rich., saloon, 145-1/2 Centre
Winter, Libor, oyster saloon, 15 Front
Yennes, John, saloon, cor. Washington and Front [Yannes?]
Zwolensky, Joe, saloon, 112 Centre cor. Luzerne

LIQUOR DEALERS
Campbell, Thomas, liquor dealer
Dusheck, Charles, liquor dealer, cor. Main and Washington

BOTTLING
Potochney, Mike, bottling works, Ridge
Timony, Peter, bottling works


---



1912 telephone directory



SALOONS
Bechtloff John, Saloon – 28 S Ridge
Bott L, Saloon – Centre
Gavanaski Joseph, Saloon – E Walnut
Keiper William, Saloon – Walnut
Mooney Frank, Saloon – Centre
Remack Mike, Saloon – Main
Waskevich John, Saloon – Walnut & Pine

LIQUOR SALES
Dusheck Charles, Whol Liquor Dealer – Main
Hudock George B, Btlr & Liq Dlr – S Washington
Steiner Joseph, Retail Liquor – 58 Centre
Zelenak Andrew, Whol Liquor Dealer – Ridge

BREWING COMPANIES
Bartels Brewing Company – Front
Freeland Brewing Co – Fern

BOTTLERS
Hudock George B, Btlr & Liq Dlr – S Washington
Sweeney P M, Bottler – 189 S Washington
Yannes John, Bottler – Washington


---



1917 telephone directory



SALOONS
Balon, Frank - 536 Centre
Bechtloff, John - Breznock Bl.
Burtasavage, Mike - 321 S. Centre
Dichiaro, Santo - 457 Ridge
Gavanasky, Joseph - 732 Walnut
Hudock, Michael - 318 Centre
Kaminski, Felix - 515 Centre
Kane, Stanley - 302 Ridge
Karpowitch, Anthony - 408 Centre
Nowak, Albert, Saloon - 977 W. Walnut
O'Donnell, A. J., Saloon - 420 Centre
Remak, Michael, Saloon - 709 Main
Turri, Serafino, Saloon - 402 Centre
Waskewich, Wm., Saloon - 302 Centre
Zarowsky, Andro, Saloon - 222 Adams

BREWING COMPANIES

Bartel's Brewing Co., Office & Storage - S. Washington
Freeland Brewing Co. - 516 Fern
Pilsner Brewing Co., Storage - Timony Bl.

BOTTLERS

Hudock, Geo. B., Bottler & Liquor Dealer - 406 S. Washington
Yannes, John, Bottler - 558 Washington


---



1921-1922



SALOONS
Balon, Frank – 536 Centre
Beleykanich, Michael – 360 Ridge
Cunningham, Bernard – 240 Ridge
Danko, George S. – 827 South
Di Chiaro, Santo – 457 Ridge
Dougherty, Wm. M. – 726 Centre
Eagle's Cafι – 500 Johnson
Gavanaski, Joseph – 728 Walnut
Greshko, Joseph – 306 Centre
Hudack, Michael – 318 Centre
Kielman, Carl – 555 Walnut
Kasarda, Andrew – 355 Centre
Kuzmisky, Branislaw – 402 Centre
Laskaski, Stefani – 314 Centre
Letchak, George – 420 Centre
Magarosky, Joseph – 336 Centre
Malloy, James – 601 Centre
Nowak, Albert – 977 Walnut
Pasternak, Michael – 421 Centre
Procopio, Salvatore – 520 Ridge
Remak, Michael – 709 Main
Rugan, Victor B. – 501 Centre
Stasko, Andrew – 301 Centre
Stine, Lester A. – 819 Walnut
Turri, Cipriano – 229 Ridge
Urnovich, John – 442 Centre
Waskevich, Wm. – 302 Centre
Zelenak, Andrew – 525 Fern

BOTTLERS
Arnold & Pilsner Breweries – Centre & L V R R
Hudack, George B. – 406 Washington

BREWERS
Freeland Brewing Co. – 516 Fern


---



1928-1929



SALOONS – SOFT DRINKS
Amendalair, John – 452 Ridge
Balon, Frank – 536 Centre
Bereznak, John – 250 Centre
Cheppa, John – 457 Ridge
Cunningham, Anna L., Mrs. – 336 Centre
Dallas, Stanley G. – 940 Ridge
DeFalco, Frank – 722 South
Gallagher, Wm A – 240 Ridge
Greshko, Jos – 306 Centre
Hurchock, John – 602 Ridge
Kasarda, Andrew – 355 Centre
Kuzmiski, Bronislaw – 555 Walnut
Laskaski, Sterania – 314 Centre
Martini, Alf – 302 Centre
Miskewich, Wm – 302 Ridge
NOVAK, STANLEY – 807 Schwabe, Tel 33-M
NOWAK, JOSEPH – 977 Walnut
Pancheri, Angelo – 442 Centre
Pasternak, Michl – 421 Centre
Procopio, Salvatore – 520 Ridge
Ravina, Jos S – 413 Centre
Remak, Michl – 709 Main
Schultz, Edw J – 420 Centre
SWEENEY BROS. – 512 Centre, Tel 333-W
Turri, Cipriano – 229 Ridge
Yacunski, Edw J – 302 Washington
Zanzella, Anna, Mrs. – 525 Centre
Zedalas, Geo – 360 Ridge

BOTTLERS
Hudack Bottling Works – 406 Washington, Tel 252-J
Standard Bottling Works – 525 Fern, Tel 212

BOTTLERS – CARBONATED BEVERAGES
Fox Bottling Works – 25 Park


---



1940



BEER DISTRIBUTORS
Belekanich, A. Michl. - 409 Ridge
Moran, John J. & Son - 543 W. Broad, Hazleton, Pa.
Rudy, Mary Mrs. - 531 Fern

BOTTLERS
Moran, John J. Son - 543 W. Broad, Hazleton, Pa.
S & S Bottling Works - rear 412 Washington

RESTAURANTS [NO "SALOONS" CATEGORY IN THIS DIRECTORY]
Amentler, Jno. F. - 725 Main
Amentler, Rocco T. - 457 Ridge
Balon, Frank - 536 Centre
Belekanich, Anna - 409 Ridge
Boner, Jno. - 420 Centre
Boyle, Eugene C. - 700 Main
Brueningsen, Harold - Main, Upper Lehigh
Cunningham, Anna - 336 Centre
Cheppa, Jno. - 418 Centre
Danko, Jno. M. - 827 South
Defalco, Frank - 722 South
Grega, Geo. A. - 525 Fern
Grohowski, Michl. - 302 Washington
Gunning's Restaurant - 513 Centre
Guzzi, Anthony - 831 South
Kaminsky, Carl - 1115 Birkbeck
Karpowich, Edw. - 329 Centre
Kozel, Albian T. - 527 Centre
Kuklis, Cath. - 133 Birkbeck
Learn, Harvey - 722 Centre
Machella, Jno. J. - 302 Centre
Mattis, Jno. E. - 360 Centre
Mehale, Jno. J. - 449 Ridge
Mischissin, Michl. - 402 Centre
Mulhearn, Jos. L. - 637 Centre
Myers, Dorothy M. - 436 Centre
Nowak, Jno. - 1121 Birkbeck
Nowak, Jos. K. - 977 Walnut
Nowak, Stanley J. - 807 Schwabe
Procopio, Salvatore R. - 520 Ridge
Ravina, Jos. S. - 413 Centre
Remak, Michl. - 709 Main
Selvestrovich, Wm. - 729 Front
Sledwesky, Ignatz - 715 South
Speal, Gus - 630 Centre
Turri, Angelo - 229 Ridge
Urenovitch, Victoria - 443 Centre
Ursta, Jno. - 451 Ridge
Yeskewich, Magdalena D. - 442 Centre
Zike, Julius J. - 1133 Walnut

WINES AND LIQUORS
Pennsylvania State Liquor Store - 251 Centre


---