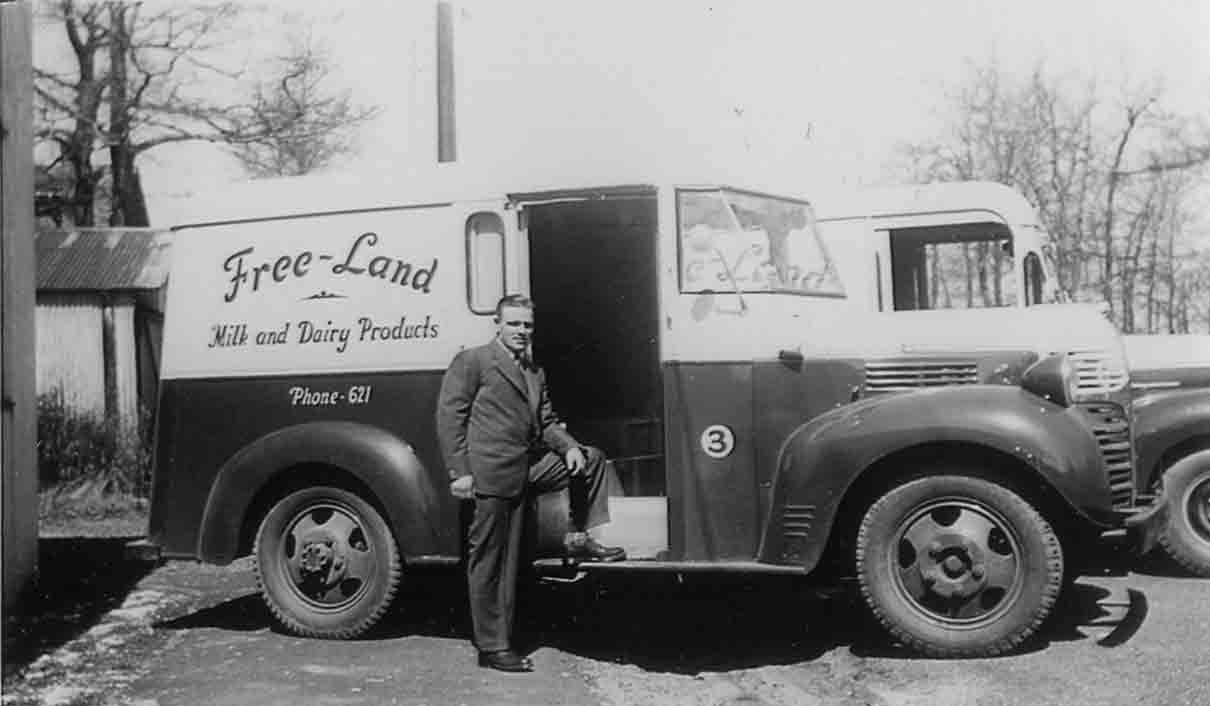 The information on this page comes from Carol Jones (daughter of Lou Corazza), with additions from her brother Lou "Chuck" Corazza and Sally Bartnik.


Beginnings, contributors, products
Lou Corazza and Elliott Oberrender began the Freeland Dairy in 1947 on Brengle Street in Freeland. In 1949, Oberrender left and Albert Corazza and Clarence Williams signed on. Clarence Williams was a farmer. (Photo from Carol Jones)

Employees included Nicky Kohler and Joe Lynn (inside) and "Bibs" Dietrich (White Haven route), according to Chuck Corazza.

The dairy sold to stores, institutions and individuals, but mostly individuals.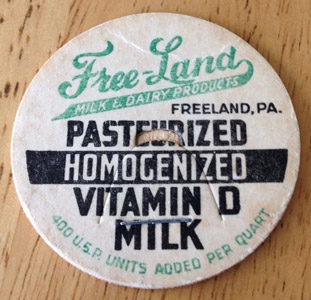 All of the milk for the dairy was brought in in big cans by 10 or so area farmers, who came from the valley, from Weatherly and from along the old White Haven road. These included Kupsho (valley), Henry Grosz (near Wapwallopen), Lesser's (towards White Haven), and Joe Weaver (Sandy Valley). At least some of these farmers supplied eggs, too.


I asked Carol what was sold by Freeland Dairy:

Lou bottled heavy and light cream, pasteurized and homogenized milk, chocolate milk
Buttermilk (Lou may have made his own, Carol wasn't sure)
Cottage cheese
Butter (commercial)
Eggs
Cans of milk
Chocolate milk
Orange juice (Tropicana)

Orange drink
Ice cream (Clewell's from the Berwick area supplied ice cream at one point; also, Dixie cups at the Dairy storefront)
Candy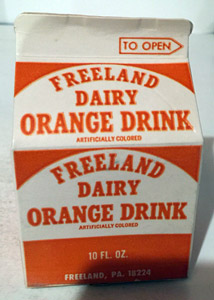 Freeland Dairy also packaged milk in those little half-pint waxed cardboard containers to deliver to local schools.

Later, customers asked for milk that was pasteurized but NOT homogenized.


Operations
Equipment used included: pasteurizer, homogenizer, bottle washers, can washer, scales, and a bottling machine that also put on caps and red or other colored cellophane. Sally Bartnik remembers the cellophane wrap: yellow for pasteurized, red for homogenized, green for St. Patrick's Day!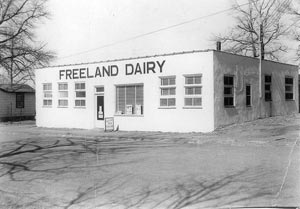 Conveyer belts would bring the bottles around to be put into cases. Work started at 4 a.m. There was a big freezer room for the ice cream, and the milk had to be kept cold at a precise temperature. They made the milk one day, kept it cold overnight, and loaded it onto trucks or into coolers the next day. When delivering, they would also pick up the previous day's bottles and bring them back to wash and refill. The bottle washer was also a sterilizer. (Photo from Carol Jones)

The dairy had its own well and the water came from White Haven – they used a lot of water. Carol speculated that it might have been the case that Freeland wouldn't let them use Freeland water due to the amount needed to operate.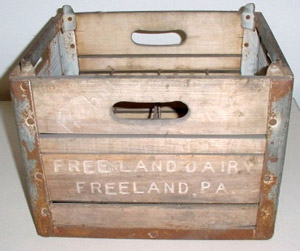 The milk was tested monthly. Carol remembers no cases of illness; the milk always tested good, and the inspectors said this was the richest milk around. Carol doesn't know if the farms were also inspected in those days, but the cows were probably just grazing in grass, no antibiotics or hormones.

There was a little candy store in the dairy, where they sold candy, popsicles and ice cream.

What about leftover milk? They didn't want to throw it away, so Carol's mom would do a lot of baking, especially with buttermilk: bread, cakes, pies, sticky buns.


Delivering the milk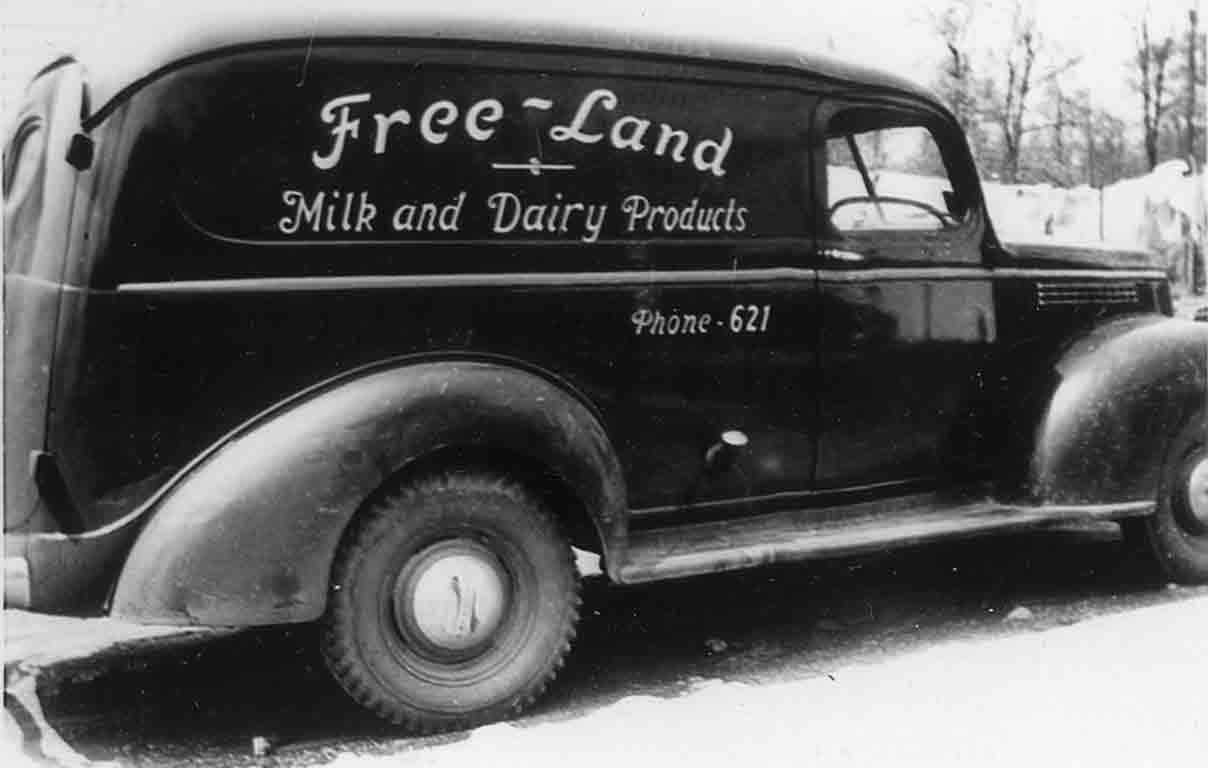 Patchers were young boys who rode on the truck with a driver and would jump off and grab bottles to take to customers. Many customers had insulated milk boxes on their steps or porches, which protected milk from extreme temperatures. Freeland Dairy delivered to the patch towns near Freeland as well as to White Haven, Pond Creek and Upper Lehigh. They also delivered to camps: Shehaqua (for girls) and Camp Daddy Allen, both in Hickory Run. (Photo from Carol Jones)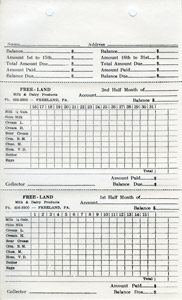 Customers would typically place their orders for a half month at a time, as shown on the order form at right, and pay a half month at a time, too. The ordering system was detailed but straightforward and worked very well. (Order form from Carol Jones)

The big trucks were panel trucks; the cases would be stacked in the back, and the trucks were noisy to ride in. The vans were smaller but still noisy. Lou would let Carol and Sally ride along to the camps, drop them off at Spring Lake to swim, continue to deliver and pick empties, and then come back to pick up the kids.

The patchers are still around! Kenny Wenner and David Kavitsky (now engineer for the borough), Carol's brother Chuck Corazza and nephew Steve Bartnik. Steve's father had died of Hodgkins disease when Steve was 3, so Lou was like a father to him; he was Steve's maternal grandfather. Once a woman stopped by to ask Lou a question. Lou was napping, and Steve (8 or 9 at the time) answered the door, then came and told Lou, "Pap-pap, someone wants to talk to you." "Well, who is it?" Steve replied, "I don't know her name, but she gets 2 quarts homogenized and 1 of skim."

Chuck Corazza recently recalled his patching days:
"I can remember 'patching' for my dad before school (6th grade) in the winter. We would get up at 4 a.m., load the truck and start peddling the route about 4:30. In the winter, there was typically a lot of snow and the plow trucks were not out yet, so Dad would drive the truck as far as he could into the snow and we would load 'carriers' that held 6 quarts each. With a carrier in each hand we could wallow our way down the street delivering milk, often digging down to find the 'milk box' on the porch. When I asked my Dad why we didn't wait until later when the streets were plowed he said that 'people ave children that need milk for breakfast.' As far as I can remember, he never missed a day of delivery."

After Clarence Corazza died, Albert did other work because his health prevented him from being able to lift heavy weights. Chuck Corazza remembers that Albert eventually left to start Fairway Motors, and Jack Zippay bought his share and became Lou's last business partner. Carol remembers that Jack lived across the street from the dairy and that he and Lou worked well together, a good partnership.

Lou did his own bookkeeping. Carol recalls that he would bring home "The Books" and work on them in the dining room. Then the hired person did the books: Marie Ceol Marencin, then Cele Kavitsky, then Ella Rimshaw until the dairy closed. Sterling Learn was the accountant who was hired to do taxes, auditing and so on.


Closing the business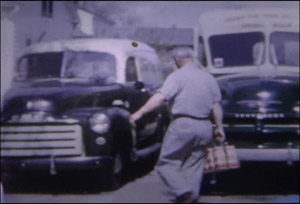 At some point, changes in the economy made it more and more difficult to stay in business. For example, Lou would have had to order thousands of caps in order for them to be made up, way more than he could use. Also, bigger dairies were trying to buy out the smaller dairies. Unions came in and required higher wages, vacation and sick days, and workman's comp. Lou himself didn't get ANY days off, never taking a vacation until Carol was in high school. He also lost some workers to the State School in White Haven, where the work was easier. Carol remembers that it was hard in general for small businesses. (Photo from Carol Jones)

When the business closed in the 1970s, perhaps the late 1970s, Lou sold it to Dairilea. They had made him a good offer, because his business was in such good shape.


Even the circus came to the dairy!
Carol reminisced about one summer when the circus came to town. Their tents were set up in nearby Crescents Field. Since it was summer, Carol and Sally were working at the dairy as salesgirls, waiting on people who stopped in during the day to buy milk, candy or ice cream. One day 3 or 4 women who were circus performers came by to get some snacks and milk. These performers wore lots of make-up but had no place to wash up. They would stop by daily, usually all together. The first time Carol and Sally saw them they couldn't believe the amazing, heavy make-up – they themselves were teens and only allowed to wear pink lipstick, very light. So this felt a bit like another world to them.

But the women weren't the only performers who visited the dairy. The circus had three elephants. Men from the circus would bring the elephants over across the road (the elephants holding each others' tails), and local firemen would come and open the fire hydrant near the dairy and fill pails with water for the elephants to carry back to the circus.


---

Thank you to Carol Jones, Chuck Corazza and Sally Bartnik for this look back to the days when Lou Corazza and his Freeland Dairy worked hard to supply milk and other products to the Freeland area. We close with this side view of a paper Freeland Dairy work cap. (Cap from Carol Jones)