It's a little harder to find pictures of some of our schools, particularly the smaller ones, than it is to find pictures of churches or major street intersections. This page will grow as more school pictures become available. If you have any school photos that you would be willing to share copies of, would you please let me know? Thanks!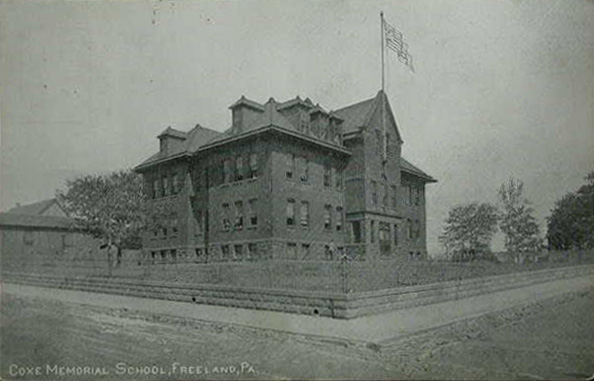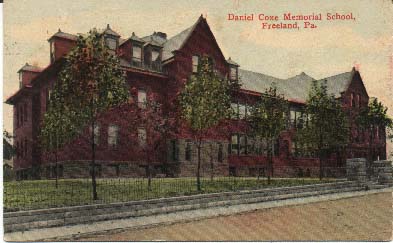 Daniel Coxe Memorial School was opened in 1896. The black and white photo on the far left shows the original school building. In 1913 the school was enlarged to accommodate a growing student population. The color picture at near left shows the larger school and includes some landscaping. The school is now gone, and in its place is a Senior Center.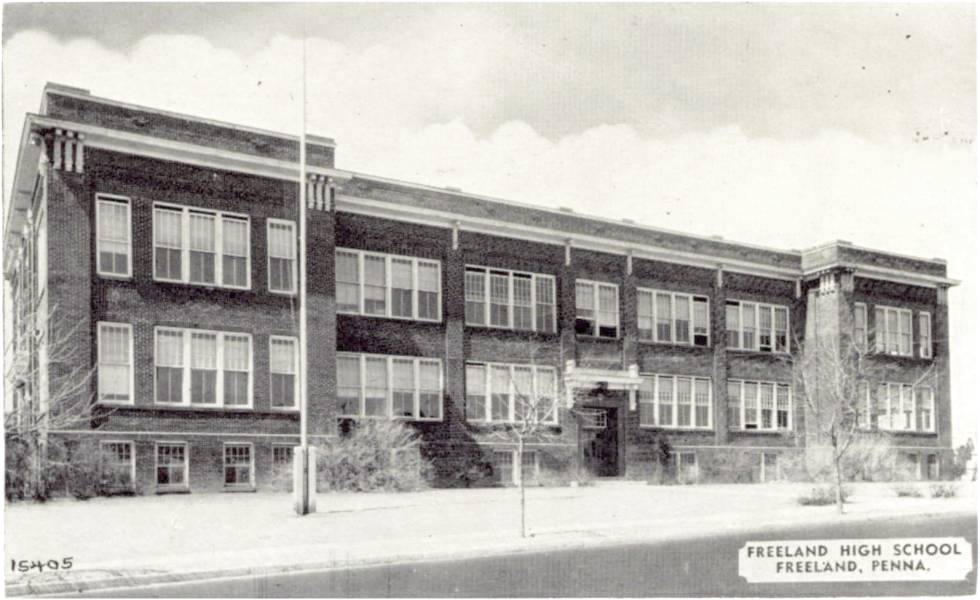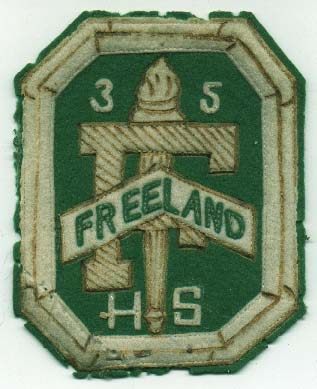 The Freeland High School building shown at right was built in 1922, on property located at the intersection of Dewey and Johnson streets. A green (not red?) felt sweater badge with a home-made look is also shown here, dated 1935. In 1966 the Hazleton Area School District was formed, and students from Foster Township and St. Ann's High Schools were transferred to Freeland High. Freeland High School was torn down in 1973.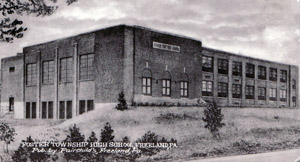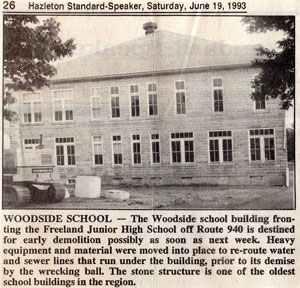 Foster Township High School was opened in Woodside in 1912, joining the elementary school that was already there. A new high school building was built in 1936-1937. The nifty badge from 1941 shown at top left also comes from Foster. My dad's family lived in Upper Lehigh, and although my dad went to Freeland High, the rest of his siblings went to Foster for high school. The building is still standing today, although vacant. The elementary school, shown at right in a clipping from Ed Merrick, was torn down. As noted in that newspaper caption, it was one of the oldest surviving school buildings in the region.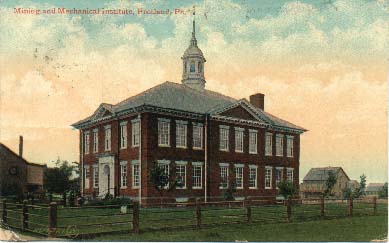 The Mining & Mechanical Institute (MMI) was first opened in Drifton in 1879. After a devastating fire in 1888, the school reopened in temporary quarters in the Birkbeck Block on Centre Street just above Main Street, in 1893. A new school building, shown at left, was completed in late 1902. According to the 11th edition of the Encyclopaedia Britannica, MMI was modelled after the German Steigerschulen, with elementary and secondary departments and a night school for workmen. The school was gradually transformed into a college preparatory school, and was recently renovated and expanded.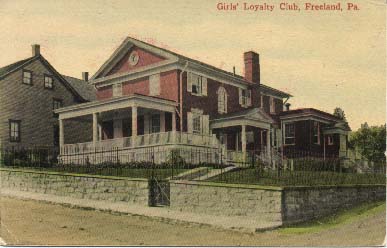 Sophia Coxe, wife of Eckley B. Coxe, thought that some sort of extra education was also needed for girls in the Freeland area. She founded an Industrial School for Girls, which was later called The Loyalty Club or The Girls' Loyalty Club. This was a bit like a finishing school, where local girls could learn some of the 'womanly arts' such as various crafts and needle arts as well as cooking and deportment. This building was later donated by the Coxe Estate, in memory of Sophia Coxe, for a new church that was being formed in 1937, Ss. Peter & Paul's Eastern Greek Catholic Church. The building still stands today, although it has been modified and expanded to accommodate the needs of the parish.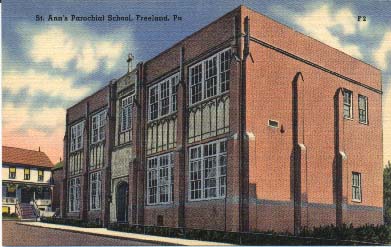 The original St. Ann's school and convent were built in Woodside in 1883. A new St. Ann's Parochial School and convent were built on Chestnut St. in 1929. After serving the parish for many years, the high school closed in 1966, and the elementary school closed five years later.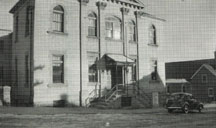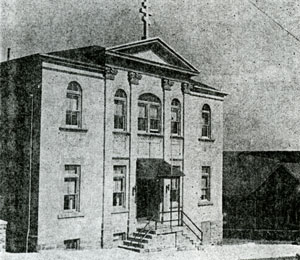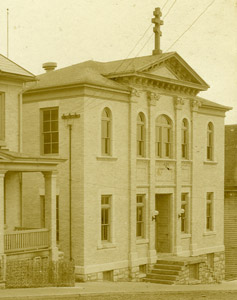 Another parochial school, St. Mary's Greek Catholic School, was built on Fern Street. It is listed in a borough directory in 1921. In 1984 a new parish center for St. Mary's was dedicated on the site of the old school. There is also an 1890s student group photo from St. Mary's on the other school gallery page.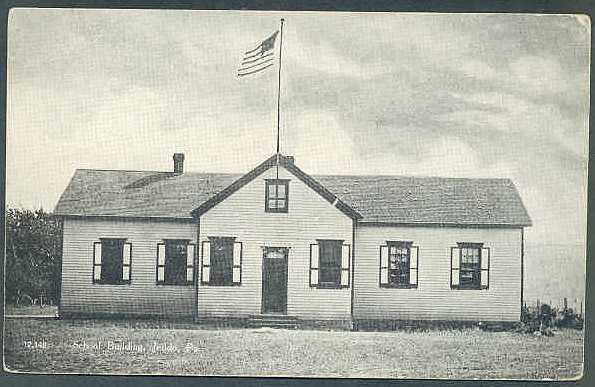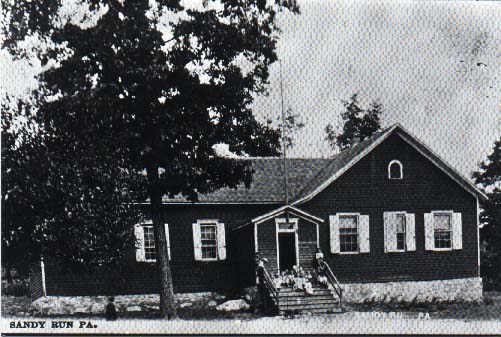 There were numerous other small schools in Freeland and the surrounding area. Shown here are the Sandy Run School (right) and the Jeddo School (left). Other photos will be added here as I find them. Tom Yaruso wrote in October 2013 to remind us of Highland School: "I see nothing on Highland school in which I attended from 1942 to 1948, my mom attended 1919 to 1925, then attended Foster Township high school in Woodside building before Foster Township high school new building built, I remember when in I think 1946 or 1947 Eckley, Sandy Run and Ripples schools closed and every one attended Highland school."