News Detail
Comp Finance Student Wins U.S. Women's Chess Championship
Release Date: Mar 25, 2003
Anna Hahn, a graduate student in Carnegie Mellon's Computational Finance program, has captured the title of U.S. Women's Chess Champion 2003. Hahn attends the Graduate School of Industrial Administration's New York campus while working as an analyst for Goldman Sachs.

In addition to her most recent chess achievement, Hahn was a member of U.S. Women's Olympic chess team in 2000; earned her Women's International Master title in 1995; won second place in the Junior World Chess Championships in 1993; and earned the title of Latvian Women's Che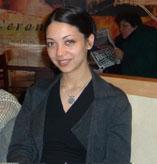 ss Champion in 1992.

"Anna is a very gifted young professional with a wide range of talents and interests," said Rick Bryant, director of the Masters of Science in Computational Finance (MSCF) program. "This most recent achievement in chess is no surprise. She is a great analytical and strategic thinker, a gift she applies to both her educational and professional goals in computational finance and to her love of chess."

Carnegie Mellon's MSCF program is a three-semester course of study focused on the use of quantitative methods and information technology in the field of finance. Graduates from MSCF work almost exclusively in the financial services industry. An example of the inherent collaborative culture at Carnegie Mellon, the MSCF program is the joint effort of four Carnegie Mellon colleges: Graduate School of Industrial Administration, Mellon College of Science, College of Humanities and Social Sciences and Heinz School of Public Policy and Management. Faculty members work together on curriculum development and teaching. Carnegie Mellon also offers a dual degree program with the MSCF program and the MBA program.

Most classes in New York are simulcast from Pittsburgh via live interactive video, however, personal instruction also is provided in New York every mini-semester. Professors teach from both locations using an electronic "softboard," giving students an exact electronic copy of all notes written on the board.

After earning her MSCF, Hahn intends to pursue a career in trading and risk management.