Home
Registration
Venue
Program
Committee
Previous GMPs
Journal Publications
About Pittsburgh
Paper Submission
Reserve hotel room
Group rate available
until June 27, 2006.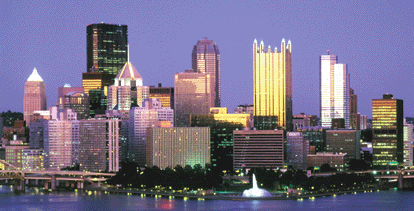 Geometric Modeling and Processing (GMP) is a biannual international conference series on geometric modeling, simulation and computing. The modeling and processing of geometric data is fundamental to many computer applications, including computer graphics, computer vision, CAD/CAM, medical imaging, engineering analysis, robotics and scientific computation. GMP conferences provide researchers and practitioners with a forum for exchanging new ideas, discussing new applications, and presenting new solutions. GMP2006 is the fourth GMP conference. The previous GMP conferences were held in Beijing (2004), Tokyo (2002), and Hong Kong (2000).
GMP2006 solicits original technical papers on topics including, but not limited to:
Curves and Surfaces

Digital geometry processing

Differential geometry

Dimensioning and geometric tolerances

Geometric feature modeling and recognition

Geometric Constraint solving

Geometric optimization

Heterogeneous modeling

Multiresolution modeling

Mathematical foundations of CAGD

Shape representation