News Archives
December 20th 2004
AIGA & IDSA are doing the design t-shirts this year. So over winter break, think about sweet ass designs and then shortly after we get back we will be voting on the best one. It has to be one color... Oh and creativity and humor (sarcasm even) are always appreciated.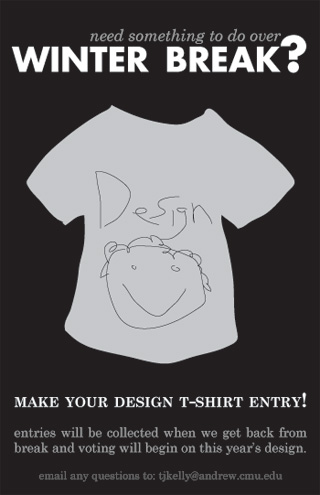 November 23 2004
The Portfolio Panel is cancelled. Aparently we had such a good idea that Mark Baskinger (and the rest of the Career Days gang) already thought about it. If you didn't catch his email, they're having the same thing next Tuesday the 30th. It's a good sign that we're coming up with good ideas and they have a budget and more connections so we're going to let them take care of this one.
Also, please send me your url if you have a personal website you want featured on our members list!
November 17 2004
We will be having a portfolio workshop on December 14th at 6:30pm (tentative) to assist people in preparing their portfolios over winter break. We'll have professionals and professors to help!
Design t-shirts! Start coming up with ideas for this year's School of Design shirts.
Also, this website will be expanding, and we'd like to have a list of members and their websites if they have one. Email me if you have a website you'd like listed.
November 10 2004
We have 32 members! Excellent. It's definitely a huge increase from last year. A few people have asked how to get an online password, membership card, etc. The answer is that the AIGA National Chapter should be sending your membership card with your online password on it soon. All that information will be included in that letter and it will be mailed to whatever address you used on the registration form.
If you want photos from the Halloween party, they're on the Pit in the folder 'Design Halloween Party 2004'.
November 9 2004
The committee has set the date for Intern Adventures for Thursday November 18th. We will have students come in to talk about their design internship experiences from the summer. Free food and fun! Check out the calendar for more details.