a Sweepstakes Journal
lies, rumors, and observations from the embittered side of buggy
Comments? Feedback? Want to smear another organization? Send mail to leg+@andrew.cmu.edu. Sources will be kept confidential unless otherwise requested.
raceday 2005: saturday
PiKA men again
They're fast.
and another failed drop test
Let's see, 6 failed drop tests out of 72 rolls. As a whole, Sweepstakes failed 8.3% of the drop tests. Anyone else see a problem with this?
That's two for PiKA this year. That's it: if PiKA fails drop tests, failing drop tests is the key to winning.
races are over... or are they?
So what's a buggy fan suppose to do? You're standing at the bottom of the hill, after the last scheduled men's heat, knowing that PiKA has won yet again, but hoping for a final reroll that will help tide you over the summer drought, and the radio club announces that "we're done". But by the time you get to the top of the hill, it turns out there is a reroll! Perplexing.
SigNu talked themselves into a reroll, presumably claiming that KDR B made some sort of contact with them. But why were they bothering? They were only ahead of Fringe B by a few tenths of a second, and there were lightyears (well, 4 seconds) out of 4th place. It seemed that the best outcome would be keeping what they had, with real risks of dropping a place or spinning and going completely trophy-less.
All turned out well for SigNu A: they gained a second and avoided disaster.
But the reroll-that-almost-wasn't was the silliest Sweepstakes looked all weekend.
raceday 2005: friday
Top Men
Looks like PiKA A and Fringe A will be battling it out for #1, with PiKA A as the heavy favorite. Even better will be their heats: Fringe A faces PiKA B and then PiKA A faces Fringe B.
So what's the correct strategy for Fringe if their A team finishes with a time that puts them in first place? Their B team needs to figure out how to interfere with PiKA A in some way that slows them down and prevents a reroll; tricky, given that Fringe B is running 7 seconds behind PiKA A. Maybe Fringe B can run over the PiKA hill 1 pusher and then a back hills pusher can blatantly interfere. But it's hard coming up with something subtle.
SigNu B Men flip and spin or maybe spin and flip
In the only excitement of today (excitement being defined as "possibly killing someone") SigNu B spun and flipped. Or maybe flipped and spun. Well, there was definitely some spinning after the buggy was on its side; it's just not clear if there was spinning before their right front wheel came off the pavement or not. (Current guess: the wheel came off the ground, then the buggy started to spin, and then over she went.)
This is the first time I've ever seen SigNu flip; their buggies are large enough that it's not usually a problem. Then again, this is their newest buggy and is noticeably higher than the other ones: a veritable SUV of SigNu Buggies.
SDC C Men pass SigEp A on the far outside
SDC is once again wowing spectators with their far, far outside line. It did put them far away from SigEp A when they went for a pass, but it still seems goofy to me. By the time SDC brushes against the haybales, they're most of the way to the turn at Scaife and have already bled off most of their speed; why not travel a shorter path? (And not scare everybody.)
SigEp: just because you built a buggy this year doesn't make it your A Team buggy. Last year you were great. This year you were only marginally more interesting than Kappa.
Top women: Fringe A and PiKA A
Fringe A, at 2:38.3, and PiKA A, at 2:38.6, were the top two women's teams of the day, setting up what looks like a great battle for the women's final. PiKA A showed a rare driver's lapse with a noticeable fishtail as the driver tried to straighten out down Frew street. Fixing that problem for tomorrow might very well put them right at Fringe's time.
SDC fails three drop tests
The SDC buggy Strife failed two drop tests, one in the 7th roll of the day, and the other in the 18th. In neither case did the buggy even slow at the brake line: the brakes were entirely non-functional. Caliper brakes just shouldn't fail in this manner; even if they're not enough to finish a drop test, you should get at least some increase in friction.
This is serious: it's vaguely understandable to fail a single drop test, perhaps even more so when it's the first heat of the day. To send the same driver out in the same buggy that hasn't been fixed seems like a failure of a safety culture.
And SDC C also failed a drop test.
From a racing perspective, SDC DQ'd the 4th place women's team, which would've been easily into Saturday racing.
Spirit A Women's buggy gets close with SigEp B
The only other unusual buggy driving of the day was during the 4th women's heat, when SigEp B came down the course in front of (in front of!!!) Spirit A. If this wasn't a sign of the apocalypse, I'm not sure what is.
Spirit was gaining on SigEp B at least and pulled to the inside near the chute flaggers. Well, somewhat to the inside, not very far to the inside. The buggies made contact and appeared almost to lock, and went around the chute together, cuddling all the way.
Spirit, amazingly enough, made it up the hill fast enough to qualify in 4th place. SigEp B fell behind on the backhills but was granted a reroll.
Pioneers A Women gets passed by Fringe C
Come on, Pioneers. Fringe C? This is almost as embarrassing as following SigEp B down the hill. It would've been worse—closer at the end of the race—but the Fringe C hill 3 pusher had a lousy pickup.
AEPi A Women: DQ for 5 second violation
... at least AEPi men's team finished cleanly. Last, but they finished ...
PiKA B Women pass SigEp A
Both these teams qualified for finals, and here's a great example that engineering still matters on the buggy course. About a second separated them at the end of the race. SigEp A led up until the chute flag and trailed all the way from then on.
The Pioneers roster violation
Pioneers managed to DQ their Women's B Team and their Men's C Team due to to "roster" violations. Well, I see two reasons for a roster violation. First of all, one of their drivers missed the mandatory driver meeting before raceday and thus wasn't eligible for racing. This is the same driver who showed up drunk (drunk!) for races last year. Some people just shouldn't be allowed to drive a buggy.
They were also down a buggy (though this might be a function of the lack-of-driver): there were three buggies at design, and they had three men's heats, but we never saw Valkyrie, so one of the buggies must have rolled twice.
Injury roundup
The Kappa pusher with the cut on her palm will survive.
design competition 2005
pioneers: do valkyries really have curved pushbars?
Perhaps the most interesting buzz around design was the new Pioneers buggy Valkyrie, on the right in this photo: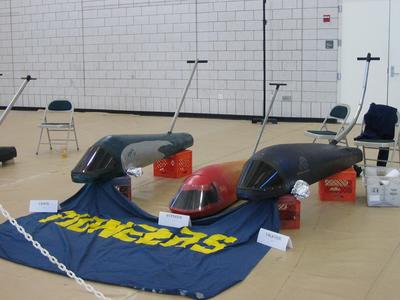 Our question: what's up with the pushbar? It seems to be longer without getting the pusher further away, more likely to bend, more likely to break, and not even more aerodynamic: it still sticks up in the same weird way!
Vaguely cool looking. Too bad they already have a buggy called Scorpion.
raceday 2004
lies, rumors, and notes about Buggy Sweepstakes 2004.
buggy 2003
lies, rumors, and observations about the Buggy 2002-2003.