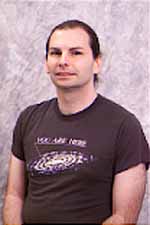 Click on my picture to see more pictures of me.
This is Greg Armstrong's Home Page!
---
In October of 2004, C-3PO was one of the inducties into the Robot Hall of Fame. While in Pittsburgh for the ceremony, Anthony Daniels, that actor who plays C-3PO, visited CMU's campus and interacted with one of the real robots I work with, Valerie, our robot receptionist.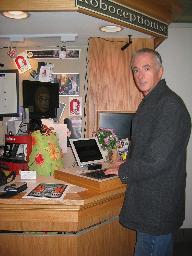 Click on the image to see a high resolution version.
I've also got some pictures of my house and garden.
I live in the wonderful city of Pittsburgh, where the weather can be as good or as bad as you like. I fix robots at Carnegie Mellon University for a living, and read Science Fiction for fun.
My Kevin Bacon Number is 3.
I've shaken hands with William Shattner when he visited CMU researching a book.
William Shatner was in The Kidnapping of the President (1980) with Maury Chaykin
Maury Chaykin was in Where the Truth Lies (2005) with Kevin Bacon
---
Contacts:
---
Robots:
Amelia is now in her third incarnation (the second being Vikia) as the robot Grace. The Swathmore website is a bit out of date, it doesn't mention the 2003 IJCAI/AAAI conference in Acopolco, Mexico.
Grace was one of the speakers at the first annual induction ceremony of the Robot Hall Of Fame.
Valerie is a robot similar to Amelia and is now the Roboceptionist in Newell-Simon Hall.
Flo and Pearl are the prototype Nursebots. Because of them (and Xavier), I got to meet famous people like William Shatner, Katie Couric, and Joe Engleberger (father of industrial robotics, for you non-roboticists).
---
Confluence is the annual Pittsburgh SF and Fantasy conference.
I used to edit the PARSEC newsletter, Sigma. Click there to see some issues, or book reviews.
---
Here's some stuff to read.
---
To contact me: