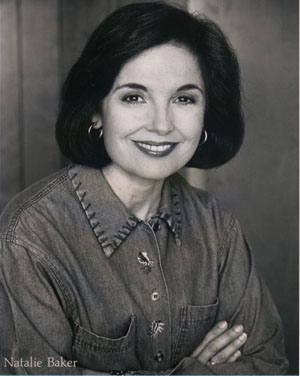 Natalie Baker is an associate professor of Voice & Speech in the School of Drama and an Affiliate of the Speech Group in the School of Computer Science at Carnegie Mellon University. She received her BFA in acting from Carnegie Mellon University, where she studied with Edith Skinner, foremost authority on the Good American Speech Dialect.She received her MFA in Theatre Pedagogy from the University of Pittsburgh.
Ms. Baker has developed and taught the Speech and Phonetics Course at Carnegie Mellon University famed School of Drama for the past seven years, as well as Accents for the Theatre and VoiceOver Acting, a course she introduced in 1996. She is also currently working on spoken language processing and pronunciation recognition for the teaching of Voice and Speech, with the School of Computer Science at CMU.
Other teaching positions include: the CMU/Moscow Art Theatre Graduate Acting Program, the CMU/MXAT Stanislavsky Summer School at Cambridge, Massachusetts, West Virginia University Division of Theatre Graduate Acting School and Studio Undergraduate Program, the University of Pittsburgh Theatre Department Graduate Program, the West Virginia Governor's School, and the Summer Institute of Theatre Educators at WVU. She has produced her instructional audio tape: Distinct, Efficient and Pleasing: A Practice Tape of the Non-Regional Dialect of American English and workbook, Natalie Baker's Accent Book, as well as VoiceOver Acting: Perspectives from Both Sides of the Microphone tape and text with co-author Carole Reinert-Lucas.
She is a singer, dancer and actress and began her career at the age of nine performing for Pittsburgh Civic Light Opera and Pittsburgh Opera. In her early teens, she had her own television show on PBS station, WQED Pittsburgh, Ballet for You. Broadway credits include a featured role in Jule Styne's Something More with Hal Linden and Barbara Cook. She has played the title role in Gypsy across the U.S. with such notables as Betty Buckley and Jayne Morgan. Other musical roles include Julie in Carousel, Luisa in The Fantastiks, Rosemary in How to Succeed..., Maria in West Side Story (including a national tour under the direction of Michael Bennet), Agnes in I Do, I Do. As a featured vocalist, she has performed in supper clubs throughout the U.S. and Canada, on several CBC variety shows, including Wayne & Schuster; as well as the Ford Industrial Show with Cy Coleman. Her PBS credits include Mister Rogers~ Neighborhood, Movin' Right Along, and narrator for the Emmy-award winning The Inside Story: What Doctors See. She has done thousands of international, national and regional radio and television commercials and industrial films and has been the voice all USAirways travelers hear on all national and international flights. She was recently elected to the Board of AFTRA (American Federation of Television and Radio Artists).She is the executive producer of the newly released Voices Over Pittsburgh II. Recent CD-ROM performance credits include a leading role in Hell, with Dennis Hopper, an appearance with Christopher Walken and Burgess Meredith in Ripper and the role of Tris Tilby in Spiderman &emdash; The Venom Factor and Spiderman II &emdash; The Sinister Six produced by Marvel Comics and Byron Preis Multimedia. She has performed her one-person show, The Voice of Flaming Youth: Edna St. Vincent Millay, a Sampler, through the United States, including a special performance recently at The Katherine Cornell Theatre at Vineyard Haven, Massachusetts. She is dialogue coach for the recently released feature film, Diabolique, starring Sharon Stone and Isabelle Adjani.