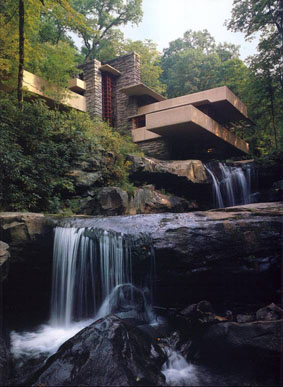 Fallingwater is recognized as one of Frank Lloyd Wright's most acclaimed works of architecture, and in a 1991 poll of members of the American Institute of Architects, it was voted "the best all-time work of American architecture." It is a supreme example of Wright's concept of organic architecture, which promotes harmony between human and nature through design so well integrated with its site that buildings, furnishings, and surroundings become part of a unified, interrelated composition.

The Land of Fallingwater hike is a guided hike on the Bear Run Nature Reserve, a part of Fallingwater, exploring the region's geology and natural environment, how people have and continue to interact with it and how Frank Lloyd Wright responded to its aesthetic qualities. The hike ends with a tour of the house. The combined hike and house tour lasts approximately 4 hours. Lunch in the Fallingwater cafe is included at the end of the tour.

The hike will be conducted rain or shine. Dress in layers: it could be cold at 10am and hot at 1pm. If rain is predicted, wear rain gear. Wear sturdy shoes. The terrain is moderately rugged and approximately 3 to 4 miles in length. We will hike then stop and talk, hike and stop and talk, etc. It's not continuous hiking and there will be a sit down refreshment/ bathroom break mid hike.

The bus will leave from the Renaissance Hotel Entrance at 8:30am sharp on Sunday June 6, 2004.